Branko Djustibek
Law, University of Bristol
Branko Djustibek is currently a final year student at the University of Bristol on track to graduate with a Law Degree in 2022. Having had professional experience in legal and international consultancy firms he intends to pursue a career as a commercial law solicitor working in the Mergers & Acquisitions practice.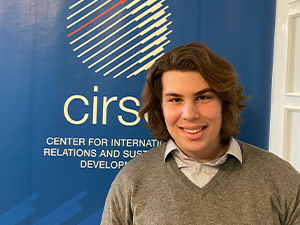 More precisely his area of interest revolves around the emerging blockchain law and legal-technology as a whole. Furthermore, Branko is passionate about international affairs and international law. He has been elected twice as the President of the university division of the international, not-for profit organisation Lawyers Without Borders. Additionally, he has demonstrated an interest in international law and international affairs through his involvement with the Center for International Relations and Sustainable Development (CIRSD).

His work at CIRSD consists of researching potential expert articles for CIRSD flagship journal of international affairs Horizons. In addition, he initiated a panel discussion between Professor Alan Dershowitz and H.E. Vuk Jeremic, which was marked as one of the most influential and wide-reaching events for law students. These experiences have provided Branko with an opportunity to be part of the expanding international law programe and part of a very professional, creative, and engaging environment.