The Great Convergence Launched in Belgrade
The Center for International Relations and Sustainable Development (CIRSD) launched the Serbian edition of the latest book of Singaporean professor and diplomat Kishore Mahbubani at Belgrade University's Faculty of Political Science, entitled The Great Convergence. Speakers at the event included professor Dragan Simić, Serbia's former ambassador to Indonesia Jovan Jovanović, and CIRSD President Vuk Jeremić.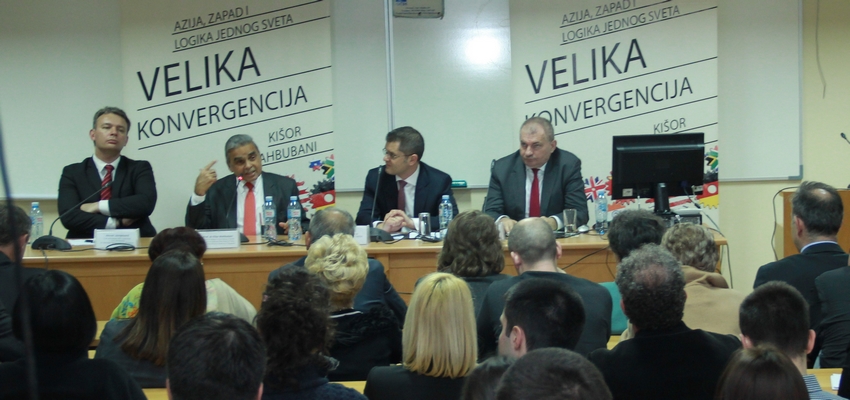 Jeremić said that "Asia is in the process of becoming the central international stage—one that will have a determinative effect on the world's economic and political destiny." He also stressed that the rest of the world does not seem to possess adequate knowledge of Asia, and suggested taking steps to establish an Asian studies program at the Faculty of Political Science.

"Considering Serbia's geographic position, it is critical for its people to have a good grasp of Europe—which from the Serbian perspective can be compared to graduating from high school. For all those wanting to succeed in the contemporary world, having a good knowledge of Asia would represent an achievement comparable to getting a university degree."

CIRSD President also said that a Serbian audience is seldom presented with an opportunity to hear from influential global thinkers such as Kishore Mahbubani, noting that CIRSD will continue releasing quality publications, as well as bringing the world's leading authorities on international relations and sustainable development to Belgrade.
At the onset of his keynote remarks, Mahbubani said that "the era of Western dominance is approaching its end, and the 21st century will be the century of Asia. This will lead to certain changes in the world order, but it also could contribute to strengthening international institutions."

"A once colonial and imperial Europe is now becoming geopolitically incompetent, while Asia seems to manage new challenges with much less difficulty. The solution lies in strengthening global governance institutions such as the United Nations—an organization that has been experiencing a power decline due to a prolonged period of Western dominance. Now that the tide is being reversed, it is in the West's interest for these institutions to strengthen," Mahbubani asserted.

In Mahbubani's view, the United Nations Security Council needs to be reformed so that it includes new members, referring to the 7-7-7 model he develops in the Great Convergence. Speaking of the risks of a prospective conflict between China and Japan, Mahbubani said that he does not believe in such a turn of events, adding that the stakes are just too high. "Why would China enter a war at a time when everything is working in its favor? There is a rivalry between the two countries, both of which realize that today's battles are being fought by trade agreements and economic means as opposed to armies," he said. "It is now overwhelmingly in China's interest to strengthen the world order. China will strengthen the UN, and everyone will benefit from it," Mahbubani added.

Kishore Mahbubani is a world-renowned commentator and writer on international relations and world politics, presently serving as the Dean of Lee Kuan Yew School of Public Policy at the National University of Singapore—a school ranked first on the list of top graduate programs in Asia. Mahbubani previously served as a Singaporean diplomat, having also held the position of Permanent Representative to the United Nations. During his tenure in New York, Singapore assumed membership in the Security Council (2001–2002).

Kishore Mahbubani is a well-known best-selling author of such books as Can Asians Think?, Beyond the Age of Innocence: Rebuilding Trust between America and the World, as well as The New Asian Hemisphere.

His last and perhaps most influential book, The Great Convergence: Asia, the West and the Logic of One World was officially named one of the best books of 2013 by the Financial Times.