The oil-price slump: crisis symptom or fuel for growth?
Georg Zachmann
The oil price dropped to a new 11 year low at the beginning of the year. Oil price movements are the result of three factors: changes in oil supply; changes in the importance of oil in the economy and changes in the global economic climate.
Oil supply

Oil supply is outstripping expectations, as US shale oil production appears more resilient than previously thought, and countries like Iran are coming back to the market. In addition, OPEC, a cartel of oil exporters, is not managing supply.

As a result, at the end of 2015 oil production had increased by about 3 percent compared to the 2014 average, from 86 to 88.5 million barrels per day. This increasing supply puts downward pressure on oil prices.

Figure 1: Oil production in million barrels per day 2014 vs. Jan-Nov 2015 in million barrels per day.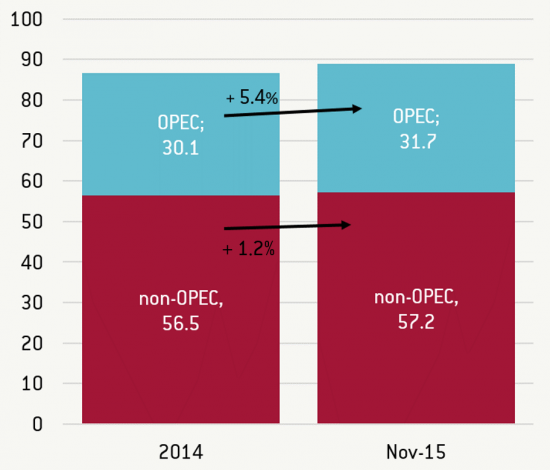 Source: OPEC
The importance of oil in the economy

The amount of oil necessary to produce one dollar of GDP has decreased globally thanks to renewables and more efficient energy use. In addition, more GDP is now generated in the service sector, which is less energy intensive.

Energy intensity has fallen globally by 1.4% each year on average since 2000. In addition all countries agreed to move away from fossil fuels, including oil, over the course of the century at the Paris climate summit. So expect a further decoupling of oil consumption and growth. Again, reduced demand for oil causes downward pressure on prices.
The article's full-text is available here.