The Right Price for Preserving Our Climate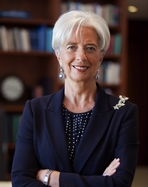 Christine Lagarde
When world leaders convene in Paris this week for the United Nations Climate Change Conference, their task will be to reach a global agreement on curbing greenhouse-gas emissions. A successful outcome, demonstrating that countries can work together for the good of the planet, would send a powerful message of hope to the world – and to the people of Paris, who remain unbowed after the recent terrorist attacks.
Climate pledges will be made on the basis of Intended Nationally Determined Contributions (INDCs), or commitments to the reduction of emissions worldwide. I believe that the price of emissions should be at the center of these pledges.
Achieving a decline in greenhouse-gas emissions at the lowest possible cost requires a revolution in energy use and production. Gradual, predictable, and reliable increases in energy prices would provide strong incentives for consumers to reduce their energy bills. At the same time, the right carbon price would enable a smooth transition away from fossil fuels by encouraging investments in technological innovation.
That is why the International Monetary Fund's staff have recommended a three-part strategy on carbon fuel: "price it right, tax it smart, and do it now." Each component is essential.
The article's full-text is available here.