CIRSD Holds its Inaugural Advisory Board Meeting in Hong Kong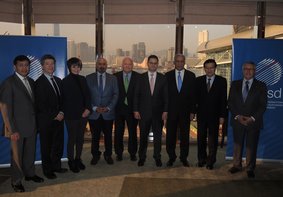 The Center for International Relations and Sustainable Development (CIRSD) held today in Hong Kong the first joint meeting of its Executive and Advisory Boards, at which was adopted CIRSD's 2014 program of work and project list.
CIRSD Advisory Board members expressed their support for the organization of a major conference on the Middle East in Belgrade, as well as the conducting of a study on Energy Sustainability in Southeastern Europe. In addition, a decision was adopted to organize a conference entitled "The July 1914 Diplomatic Crisis: Lessons Learned" in Belgrade, as well to work on a CIRSD project entitled "Sustainable Cities".
At the conclusion of the meeting, CIRSD President Vuk Jeremić noted the impressive contribution to the discussion on sustainable development by Professor Jeffrey Sachs and the Chinese Minister in charge of development policies Li Wei, underlining that it is true honor for CIRSD that for the first time in the history of China, its government permitted one of its sitting cabinet ministers to be a member of an international think tank advisory body.
"It is a great honor to have people with such international renown and experience as members of the CIRSD Advisory Board. This meeting was also a valuable opportunity to exchange views on the most pressing global affairs issues," said Jeremić.
Former Prime Minister of Pakistan and CIRSD Advisory Board member Shaukat Aziz stressed the importance of empowering the concept of sustainable development in the world, and added that is very good to have CIRSD located in Serbia, because it can help change the image of the entire Balkans while mobilizing young people in the region.
"This was an extraordinary meeting of the CIRSD Advisory Board, at which some of the main discussion issues were developments in Asia as well as recent advancements in the global strategy to achieve universal sustainable development. It is a great privilege for CIRSD to have current Chinese Minister Li Wei as a Board member," said Proffesor Jeffrey Sachs.
The following members of the Advisory Board attended the inaugural meeting in Hong Kong: former Spain's Minister of Foreign Affairs and Cooperation Miguel Ángel Moratinos, Columbia University Professor Dr. Jeffrey Sachs, former President of the Swiss Confederation and Foreign Affairs Minister of Switzerland Micheline Calmy-Rey, former Minister of Foreign Affairs of Kuwait Sheikh Mohammad Sabah Al-Salem Al-Sabah, former Prime Minister of Pakistan Mr. Shaukat Aziz, former Minister of Foreign Affairs and Cooperation of Morocco Dr. Mohamed Benaïssa, former Minister of Foreign Affairs of Indonesia Dr. Nur Hassan Wirajuda and the President of the Development Research Center of the State Council of China Minister Li Wei.