Discussion with Serbian Scholars Studying Abroad
The President of the Center for International Relations and Sustainable Development (CIRSD), Vuk Jeremic, had a discussion with students from Serbia who are studying abroad and are part of the CIRSD internship program. The discussion was focused on opportunities regarding starting a career upon their graduation and returning to Serbia. More specifically, they discussed the direction in which the country should develop, especially in relation to a post-coronavirus Serbia.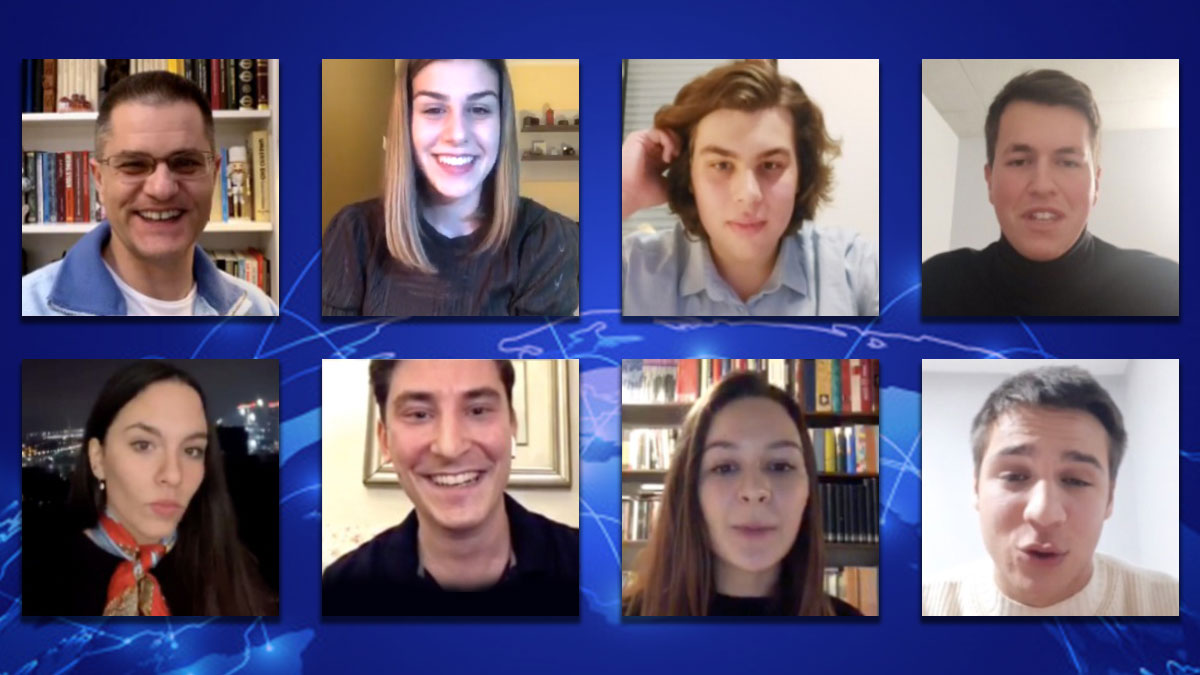 One of the questions asked by a student participant to Vuk was to name five people from Serbia, who are not his closest associates, to hypothetically help him develop the strategy for the future of Serbia, on which Mr. Jeremic responded that he would primarily like to hear the advice from indisputable authorities on matters of national identity, culture, internal affairs, economics, health and education. He responded, "First of all, I would invite Professor Milo Lompar who is an expert on matters of national culture and identity, and Professor Bojan Pajtic as a specialist on domestic political challenges. The third person would be Rebecca McDonald, a Canadian of Serbian origin, who is one of the most successful women entrepreneurs in the world and a great Serbian patriot," Jeremic stated in a conversation with one of the students through the Instagram Live feature on his Instagram account. "I would also invite, despite many political disagreements that I have with her, the director of the Oncology Institute, Danica Grujicic, because she is an exceptional scientist and an authoritative figure in the medical field. As an expert in education, I would invite Aleksandar Kovacic who served as a professor at Harvard University and at the University of Hawaii, and who is now dedicated to strategic issues in the field of education policy," added Jeremic.

When asked to choose five people from the rest of the world to help him solve the same problem, Vuk answered that he would pick experts in history, geopolitics, new technologies, business and health (since these are the most important fields of study that will shape development in the 21st century). "I would invite historian Niall Ferguson, because I believe that for a clear vision of the future, it is necessary to have understandings of the past. Next I would select one of the world's greatest geopolitical analysts, Ian Bremer. I would also choose my former roommate from Cambridge University, who is one of the world's leading artificial intelligence researchers, neuroscientist, and co-founder of DeepMind, a company that was purchased by Google, Demis Hassabis. Also, I would choose co-founder of PayPal, Peter Thiel, as well as Germany's Minister of Health, Jens Spahn. They are all my friends, and I am personally convinced of their qualifications," Jeremic stated.
Vuk Jeremic estimated that in 2021, great challenges will be related to the distribution of coronavirus vaccines, and that all countries, especially those in development, are yet to feel the devastating consequences of the pandemic and its aftermath. According to Jeremic, "We are talking about the recovery of the world's economy in the shape of the letter 'K', which means that for those who have coped well in the new circumstances, life will keep getting significantly better, while a much larger portion of the population, who will lose their jobs in the digital era, will be faced with a great challenge recovering". Vuk pointed out that the world economy has experienced a severe shock and that developed countries, such as the US, members of the EU and Japan, managed to avoid a collapse of their economies by injecting huge amounts of monetary stimulus into their countries' economies.

When asked by the students to share his career-building experience with them, Jeremic answered that he got a chance as a young man, which gave him an opportunity to achieve some of his proudest achievements, and that he strongly believed in giving the youth an opportunity in their careers early on. "Giving young people the opportunity to take responsible positions is absolutely essential for the progress, both in the organizations in which they are engaged and in the whole society. When young people are given a chance, they bring energy and enthusiasm that fades away in time with older generations. Every successful organization must be a combination of youthful energy and the experience that comes with the maturity of older people," Jeremic concluded.