Jeremić and Li Wei Meet in Beijing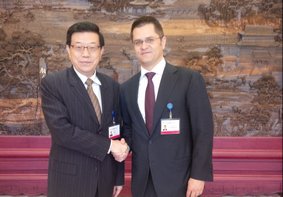 The President of the Center for International Relations and Sustainable Development (CIRSD), Mr. Vuk Jeremić, met in Beijing with a member of CIRSD Board, Minister Li Wei, President of the Development Research Center of the State Council of the People's Republic of China.
Jeremić and Li exchanged views on recent steps undertaken in China and around the world in preparation for the UN's post-2015 sustainable development agenda. They both expressed support for the establishment of a universally applicable framework of sustainable development that takes into account different national realities and respects national policies and priorities.
Jeremić and Li concluded that sustainable development is the 21st-century's most strategic global governance issue, underscoring that the way it is implemented will be of paramount importance for the future of our world.