Jeremić Discusses EU Prospects in Budapest
The President of the Center for International Relations and Sustainable Development (CIRSD) Vuk Jeremić participated in a debate centered on the attractiveness of the EU in Budapest, Hungary. Organized by the Centre for Euro-Atlantic Integration and Democracy (CEID), the event was held as part of the European Café discussion series, entitled "Is the EU still attractive?" Moderated by CEID's Senior Fellow Edit Inotai, the debate also featured Deputy Prime Minister for European Integration of Moldova Iurie Leanca and Chairman of the Hungarian Parliament's Foreign Affairs Committee Zsolt Nemeth.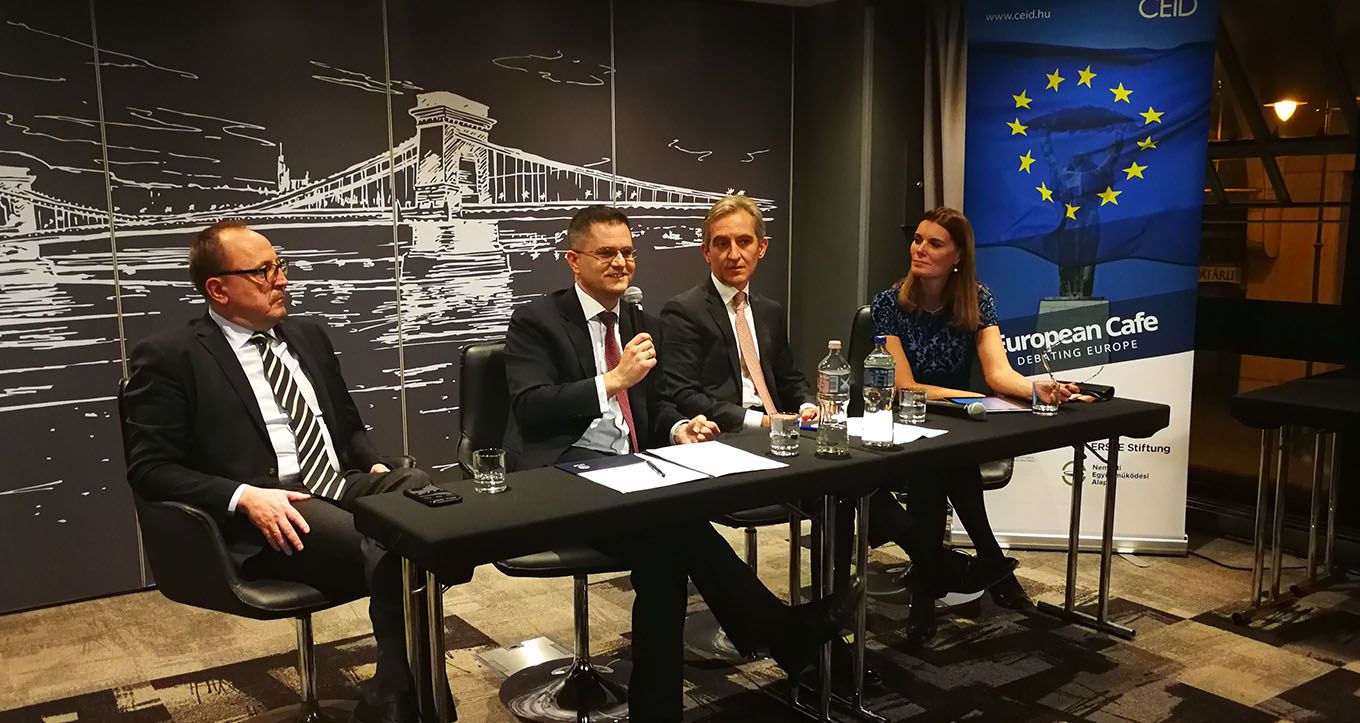 Asked whether he thinks the EU is an important global actor, Jeremić said that while the Union remains a very significant player in the Balkans, its ability to exert influence on the global scale has largely diminished. CIRSD President reiterated that he would like to see Serbia as part of the European family, but worries that the country simply does not look as European as it should today. A part of what is causing this problem, Jeremić added, is the lack of honesty, which in many ways resembles the EU's negotiations with Turkey. "Ten or 15 years ago when things started heading in the wrong direction in Turkey, neither the European nor the Turkish officials were not prepared to say that out loud. When the gap became too big, everyone had to start stating the obvious: Turkey was lost for Europe." CIRSD President said that the same thing is happening now in the Balkans. "If there exists an interest for this to change, we need to start talking straight to each other," Jeremić said.
Moving on to the issue of foreign influence in the Balkans, Jeremić said that much like in physics, it can be pretty hard to escape gravity in geopolitics, especially when many of the factors that make up strong foreign influence are so deeply entrenched in the region historically, culturally, and religiously. Much like Turkey and other relevant geopolitical centers of gravity for the Balkans, Russia is going to remain an important actor in the region. "Some have a deeply flawed idea that this can be changed by resolving Kosovo," Jeremić continued, "even if this were to happen soon, the focus would then shift to Bosnia, where Russia would also play a role." This applies to all major geopolitical actors in the region, all of which are equally likely to remain present for the foreseeable future. The same goes for China, whose economic presence is going to be increasingly felt. Responding to a question on Kosovo, Jeremić said that the two irresponsible leaderships in Belgrade and Priština are generating an artificial crisis, concluding that "when you play with fire in the Balkans, the chances are the fire is going to get out of hand."
The chair of the Foreign Affairs Committee in the Hungarian Parliament Zsolt Nemeth said that one of the most important challenges when it comes to the EU enlargement process is the loss of labor force in many accession countries, which has been greatly accelerated by the visa-free regime that the EU has offered to these countries. He further argued that the economies of those accession countries cannot overcome their respective challenges without continued EU economic assistance. He added that it is not only in the accession countries' interest for the EU to enlarge, but that the EU also needs enlargement to further its interests. Nemeth said that "we need to have a history-based and perhaps geopolitical approach to the Western Balkans," and one of the arguments as to why the EU is needed in the region is security. This is not to say that conflict in the Balkans is imminent, but "it is worth saying that there are some open wounds," Nemeth argued. He believes that Central Europe is the key partner for accession countries. Responding to a question on Muslim immigration, Nemeth said that like many others in Hungary he remains concerned about mass illegal immigration that momentarily happens to be predominantly Muslim, but is not concerned, however, with the indigenous Muslim population in the Balkans. He concluded by saying that a European integration that serves national identities and sovereignty is the kind of integration that he wants, adding that he disagrees with the federalists who keep asking the question of whether we should have more or less Europe. "It's not about more or less Europe, it's about what makes Europe better."
Addressing the question on the growing presence of China and Russia on Europe's periphery and whether either of the two countries can offer an alternative to the EU, Iurie Leanca said that although Russia has never really disappeared from the post-Soviet space, its share in Moldova's financial picture has diminished. He argued that Russia is not able to offer an attractive alternative model to European integration, but it continues to be present militarily in Transnistria and the Moscow-controlled media remains very active in the country. He added, however, that China is different, and their economic presence in Moldova will be increased in the time ahead. "The EU, on the other hand, is communicating with us only through resolutions of the European Parliament," Leanca said. He urged the EU to assume a more decisive position and said that "if Europe wants us, the frozen conflict in Transnistria should not be an impediment. What Moscow wants is to keep the situation unresolved so that Moldova is never able to politically shift westwards."