Jeremić Gives Keynote Address in Shanghai
CIRSD President Vuk Jeremić gave the keynote address at an international conference in Shanghai, entitled "Global Governance and Development Issue for a Shared Future" and co-sponsored by the Bill & Melinda Gates Foundation (BMGF) and the Shanghai Institutes for International Studies (SIIS).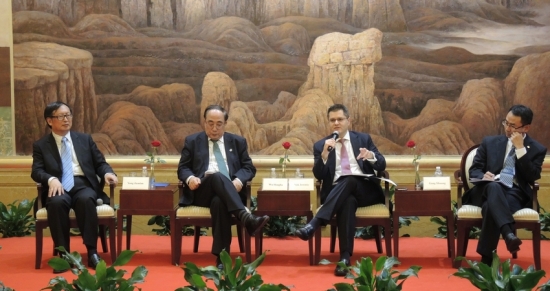 The conference was held on October 25th and 26th and focused on sustainable development, climate change, poverty reduction, and public healthcare.

High-level speakers included Wu Hongbo, UN Under-Secretary-General; Mark Suzman, President of BMGF Global Policy, Advocacy, and Country Programs; Chen Dongxiao, SIIS President; Yang Jiemian, SIIS President Emeritus; Zhang Jun, Director General of the Chinese Foreign Ministry Department of International Economics; Zou Ji, Director of the National Center for Climate Strategic Studies and Cooperation of China; and Shi Xin of the Women's Studies Institute of China

In his keynote remarks, Mr. Jeremić spoke of the strategic importance of UN Agenda 2030 for Sustainable Development, adopted by world leaders in New York in September. He underscored Serbia's active role in the negotiations that led to this groundbreaking multilateral endeavor, which was launched during his term as President of the 67th Session of the UN General Assembly. "We now have to focus on implementing this historic agreement, for sustainable development stands as our most consequential strategic challenge." Despite its many inefficiencies, Jeremić added, the UN remains the only international organization endowed with global legitimacy to address the needs and hopes of the present generation: "but the UN must change, it must be reformed and be more open, more transparent, if it is to remain true to its purpose," Jeremić concluded.

BMGF is the largest private philanthropic foundation in the world; its primary aim is to enhance healthcare, reduce extreme poverty, expand educational opportunities, and increase access to informational technology. SIIS is one of China's leading research organizations devoted to international politics, economics, security studies, and Chinese foreign policy.