Jeremic Gives Keynote Address to the Annual Macedonia2025 Summit
CIRSD President Vuk Jeremić gave the keynote address of the 2017 Macedonia 2025 Summit in Skoplje, devoted to the political, economic, scientific and technological progress of the region. He stated that countries in this part of the world should not be discouraged by the fact that the EU might be lacking consensus of the question of enlargement.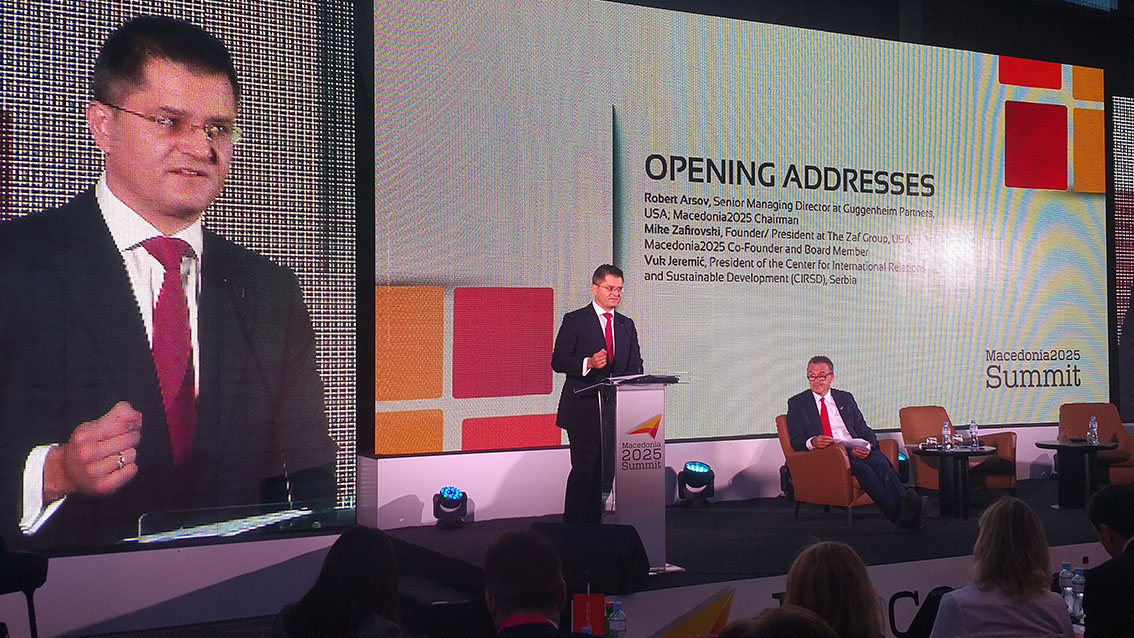 Speaking before the speech by Macedonian Prime Minister Zoran Zaev, Jeremic stressed that the region needs a reform process that will build an independent judiciary, protect the human rights of citizens, and enable sustainable economic development.
"We should reinvigorate the spirit of reform that sees responsibility, transparency, and accountability as indispensable to the long-term well-being of our respective nations", Jeremic said.
According to him, Balkan states will become European societies once corruption in hospitals and courtrooms, schools and municipalities, is no longer part of our everyday reality.
"We will become European societies when people can find jobs that pay decently, when small- and medium sized business owners can compete in the marketplace without having to cut corners, and when we start manufacturing and exporting goods that can fetch premium prices abroad." Jeremic stated.
He recalled the words of thinkers like Tolstoy and Gandhi: "everyone thinks of changing the world, but no one thinks of changing himself, of his country." Yet, Jeremic added, "this is precisely what we need to do, and it us probably one of the hardest things we've got to endeavor in our lifetime."
In his remarks, CIRSD President said that we live in a world where populism and autocracy are making significant inroads, and secessionist aspirations are on an upswing. "Record-levels of refugees and migrants are on the move, and the number of failed states is on the rise. The optimism that permeated the turn of the century, has gradually given way to feelings of disenchantment and insecurity in many parts of the planet. "Jeremic said.
He concluded that, irrespective of how Europe's institutional arrangements will look like in the decades to come, building European societies in the Western Balkans is the surest way for each of our countries to prosper in peace and security.