Jeremić Meets with Senior Spanish Officials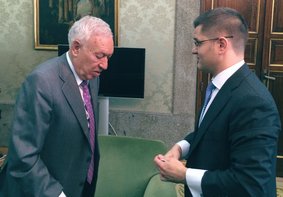 On January 10th, CIRSD President Vuk Jeremić visited Madrid, where he met with Spanish Foreign Minister José Manuel García-Margallo, Chief of Cabinet of the Spanish Prime Minister Jorge Moragas, and International Secretary of the People's Party of Spain José Ramón García Hernández.
Jeremić and Foreign Minister García-Margallo discussed the situation in crisis areas around the world, especially the Middle East and East Asia, focusing in addition on the future course of the most important processes taking place in the United Nations including work on a new global sustainable development strategy.
Jeremić informed Foreign Minister García-Margallo about the goals of CIRSD and discussed the contributions of the international team of advisors working with CIRSD, underlining his intention to deepen relations with Spanish partners as Spain has always been a close and important friend of Serbia in Europe.
In the Headquarters of the People's Party of Spain, Jeremic was presented an opportunity to become acquainted with the work and aims of that country's largest political party, and to learn more about the nation's economic and social challenges.
Jeremić completed his visit to Madrid by meeting with the Director of the Elcano Royal Institute Dr. Charles Powell, resulting in an agreement to establish cooperation between the two think-tanks as well as work together on joint projects in 2014.