Jeremić Meets with the President of Iraqs Kurdistan Region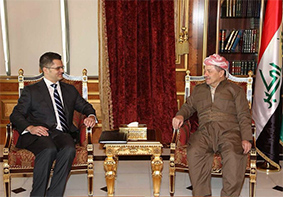 On December 24th, CIRSD President Vuk Jeremić met with the President of Iraq's Kurdistan Region Massoud Barzani, to exchange views on Middle Eastern political and security issues, as well as those related to regional energy security and sustainable development challenges.

Jeremić and Barzani agreed to cooperate on several projects over the course of 2014, and to work together on jointly organizing a prominent international conference in Erbil next year.

Also present at the meeting were the leading officials from the Ministry of the Interior and the Department of Foreign Relations of the Kurdish Regional Government.