Jeremić Participates in the Berlin Foreign Policy Forum
CIRSD President Vuk Jeremić took part in the prestigious Berlin Foreign Policy Forum organized by the Körber Foundation on November 9th and 10th.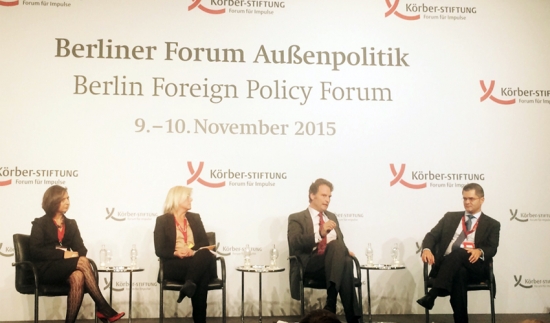 The opening remarks of the conference were delivered by German Foreign Minister Frank Walter Steinmeier, who outlined the priorities of both German and European foreign policies in the time ahead.

This year's main topics included the ongoing refugee crisis in Europe, the deteriorating state of relations between the EU and Russia, the crises in the Middle East, and the increasingly obvious arms race in East Asia.

CIRSD President Vuk Jeremić was featured as a keynote panelist in the session devoted to the refugee crisis, where he underlined the necessity for greater solidarity among the EU member states in sharing the burden of the refugee crisis. Jeremić also stressed the need for the EU to adopt a permanent mechanism to more effectively relocate refugees and asylum seekers. He called on Europe to enhance its support for Greece and the Western Balkan countries so that they may cope with the record high number of refugees.

Other participants in the conference included Luxembourg's Foreign Minister Jean Asselborn, the Czech Parliament's President Jan Hamacek, the President of the Bundestag's Foreign Policy Committee Norbert Röttgen, as well as Carl Bildt, Phillip Gordon, and others.

CIRSD President was accompanied by CIRSD Program Director Nikola Jovanović.