Andrew Barth
Political Science and Economics student at Columbia University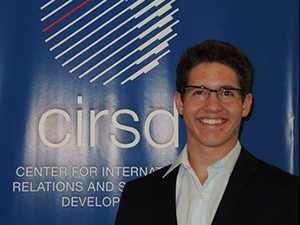 As a second year Political Science and Economics student at Columbia University, I have been conducting a serious amount of academic research for the past two years. Given that most of it consisted of overviewing and using literature pertaining to the field of international relations, I realized that gaining related practical experience would largely help in my future academic and professional prospects. I wanted to do an internship at an institution or organization that encompassed different aspects of international relations and one that would help broaden my perspectives.

I was lucky to have been chosen for the Belgrade based Center for International Relations and Sustainable Development (CIRSD). CIRSD is a relatively new but very politically aware think tank, assembling mostly young professionals who together help establish a very dynamic collective. Even though this was admittedly my first trip to the Balkans, an area I had very little knowledge of, I was quickly able to realize that all pressing global issues are being very professionally observed and studied in the region.

My internship included various duties, ranging from conducting practical research, arranging lists and proofreading all the way to helping prepare a Serbian edition of a book on sustainable development. The experiences acquired during my six week internship have not just made me feel useful to the organization, but have also succeeded in expanding my knowledge about sustainable development and especially the region of Southeast Europe. Having had the first ever opportunity to reside in this part of the world, I did not miss out on getting to know Belgrade and Serbia, both of which by far exceeded my expectations. My overall experience with CIRSD was equally professionally fulfilling and intellectually stimulating, having thus surpassed the goals I set out to achieve before the beginning of my journey.