Austin Wayne Clark
Political Science at Southern Methodist University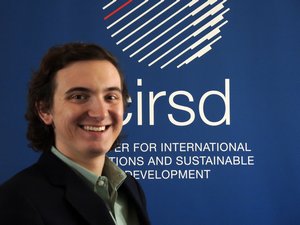 Following my graduation from Southern Methodist University, I was eager to both reside internationally and continue exploring the field of international relations. I have long been enthralled by geopolitics and security, and desired to become more involved in the international community as a global citizen. My time as an undergraduate student further fostered my passion for international affairs, and drove me to continue traveling to learn more about our globalized world. In searching for a career within the international community, the necessity of both practical experience as well as continued education quickly became apparent.

Given my love for international relations and geopolitics, I was thrilled to be informed I succeeded in the final round to become an intern at the Center for International Relations and Sustainable Development (CIRSD) in Belgrade. At CIRSD I worked under Research Associate and Horizon's Assistant Editor Stefan Antić, who pushed me to continually improve while providing constant support. My duties primarily consisted of research, editing translated texts — and most importantly — taking part in the editing process for the upcoming issue of the Horizon's Magazine. Working in conjunction with internationally recognized Universities, I solicited advertisements for Horizon's. As an external editing associate, I had the privilege of reviewing the perspectives and thoughts of world renowned political scientists and politicians. The opportunity to become immersed in international diplomacy and political affairs daily was undoubtedly an enriching experience.
The team at CIRSD was more than welcoming, and made Belgrade feel like a second home. Whether looking to experience local cuisine or finding a place to stay, the whole team was always there to make staying the Balkans a comfortable and enriching experience. While never having travelled to the Balkans before, I quickly adapted to Serbia. Belgrade is truly a wonderful city, full of friendly people and rich with history. Given the dynamic security situation in Europe, my time in Serbia proved an intellectual adventure of sorts, living in a nation delicately balancing its position between the East and West. My time interning with CIRSD was intellectually fulfilling and served as a great experience for future expatriate life.