Jérôme Fagelson
Student at Universite catholique de Louvain, Belgium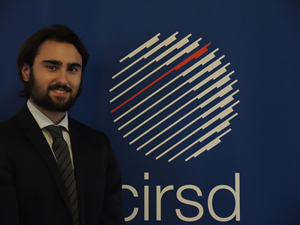 After two internships in fields of insurance and finance I wanted to do something more linked to international relations. Politics and especially international relations have always interested me. Having an internship in that sector was therefore an opportunity to discover more about it. My interest for the United Nations has always been high as I was an executive member of Model United Nations team at my university. When I first found out that "The Center for International Relations and Sustainable Development" (CIRSD) was hiring summer interns, I did not hesitate for long, and I applied. This was a unique opportunity to work with Vuk Jeremić and his team. I wanted to learn about the 67th presidency of the United Nations General Assembly. And who could have possibly taught me more than the President himself? I was not afraid of getting to know Belgrade. I was already here once, and I loved it. Getting to spend more time here was an opportunity to see old friends and discover more on the Balkans and the local culture.

My job at CIRSD consisted of two parts. I was assisting Nikola Jovanović, CIRSD Program Director and former Spokesperson and Advisor to the President of the 67th session of the UN General Assembly. I mostly assisted him in organizational work pertaining to the upcoming events. This required patience, good communication skills, and creativeness. Nikola is very knowledgeable and possesses plenty of UN experience, which gave me the opportunity to learn about the functioning of international diplomacy. My second task at the office was to conduct research. It was an opportunity to gain knowledge about green energy and energy in general.

In a nutshell, I greatly rejoiced my experience at CIRSD. The staff was incredibly friendly and ready to help me make my time abroad easier. At the end, my knowledge about energy, sustainable development, international relations and diplomacy has greatly improved since the time of my arrival. Belgrade is truly a city for hedonists, and I have genuinely enjoyed my stay. To sum up, I can only advise you to apply for CIRSD internship program.