Mirna Vujović
Master's degree in Politics at Grenoble Institute of Political Science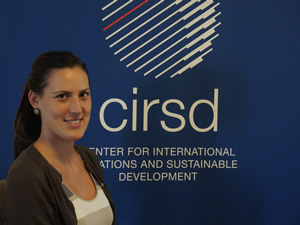 After completing my Master's degree in Politics at Grenoble Institute of Political Science, I decided to come back to Serbia and find a job or an internship. When I applied for an internship with CIRSD, I didn't know what my contribution would be. But I was ready to try and to do my best.

CIRSD team is not very big, with just a few people performing various tasks. That way, everyone's work makes a significant impact. I find this very fulfilling. I was fortunate to be admitted, and soon joined the team for a one month internship.

My main responsibilities included assisting the Program Director, Nikola Jovanović, and Web Editor, Svetlana Radivojević. I was mostly helping them about the upcoming conference on climate change and green economy which would be held in Belgrade, in November 2014. This meant further research and it was a great opportunity to find out more about green economy, solar energy, protection of the environment. I also wrote a glossary with main meanings and definitions within sustainable development for CIRSD web site. On the other hand, one of my tasks was to write a short text about Serbia's chairmanship of the OSCE, for 2015. For the first time in Serbia's history, this country will assume the responsibility of chairing the OSCE in 2015. So I had to find out more about chairmanship, priorities and whether it is an opportunity for Serbia and Belgrade.

This summer internship passed very quickly, and I can say that I really enjoyed being here, surrounded by kind and helpful people. What is more, I improved my skills and my knowledge about sustainable development. It was an honor to work for Vuk Jeremić, the President of CIRSD, but also former Serbia's Minister of Foreign Affairs and the President of the 67th session of the UN General Assembly. I would always definitely recommend everyone to apply for an internship at CIRSD.