The Global Risks report 2015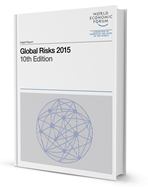 The Global Risks report 2015
The Global Risks Report is an annual study published by the World Economic Forum ahead of the Forum's Annual Meeting in Davos, Switzerland.

The 2015 edition of the Global Risks report completes a decade of highlighting the most significant long-term risks worldwide, drawing on the perspectives of experts and global decision-makers.

Over that time, analysis has moved from risk identification to thinking through risk interconnections and the potentially cascading effects that result.

Taking this effort one step further, this year's report underscores potential causes as well as solutions to global risks.
Global Risks 2015, 10th Edition is published by the World Economic Forum within the framework of The Global Competitiveness and Benchmarking Network.

Global Risks report 2015