'Summit of Think-tanks' in Washington
The Center for International Relations and Sustainable Development (CIRSD) and the Center for American Progress (CAP) co-organized a high-level panel discussion in Washington, DC, entitled "America Challenged: Foreign Affairs in 2016 and Beyond."

In his introductory remarks, former senior Pentagon official and CAP Vice President for National Security and International Policy Vikram Singh defined the event as a "summit of think-tanks" due to the high level of the speakers and the renown of the public policy organizations they represented. These included Sen. Tom Daschle, former U.S. Senate Majority Leader and CAP Chairman; Ivo Daalder, President of the Chicago Council on Global Affairs and former U.S. Ambassador to NATO; Richard Fontaine, President of the Center for a New American Security and former adviser to Sen. John McCain; Martin Indyk, Executive Vice President of the Brookings Institution and a former U.S. envoy to the Middle East; Neera Tanden, CAP President and a former senior official in both the Obama and Clinton administrations; and Vuk Jeremic, CIRSD President and a former President of the UN General Assembly and Foreign Minister of Serbia.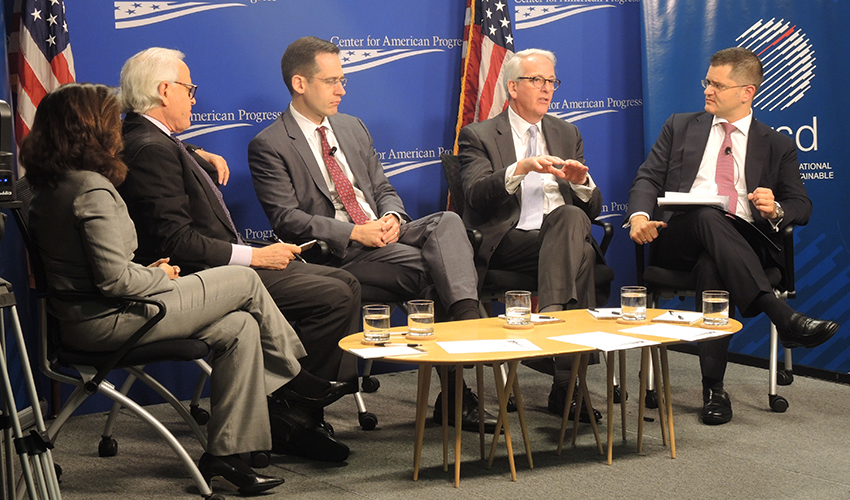 In his keynote address, Sen. Daschle spoke of the imperative of continued American leadership in a time of global transformation characterized by tectonic shifts in the international system, rapid technological advancements (Moore's Law), globalization, and extremist transnational currents seeking to spread disorder. In his view, American leadership in the time to come needs to be defined by four qualities: resiliency (dealing with the unforeseen); innovation (thinking outside the box); collaboration (working constructively with nations and the private sector around the world); and engagement (diplomatic, economic, and military preparedness).

In his opening remarks as moderator of the panel discussion, Vuk Jeremic said that it was a great privilege for CIRSD to have partnered with CAP to organize such a timely and high-level event, which is going to focus largely on the Middle East: "a place where the enemy of your enemy is not necessarily your friend."

Richard Fontaine spoke of the importance for America to intensify its fight against ISIS and outlined a series of measures to increase the efficiency of the effort without having to send U.S. ground troops. He also noted that the recent terrorist attack in Paris could come to be seen as a catalyst to focus the minds of policymakers on finding ways to end the war in Syria sooner.

Ivo Daalder said that the present crisis in Europe is the worst since the Second World War. Drawing on his recent Horizons essay, he noted that America will need to devote additional resources to help Europe overcome its challenges, concluding that "without the United States, Europe is unlikely to succeed." In seeking to explain Russia's goals in the Middle East, he spoke of Moscow's desire to maintain and deepen its presence and capability in the region. "For now, supporting Assad is the means to that end." At the same time, the growth of ISIS poses a direct threat to Russia's national security interests. Figuring out the right balance between these two goals remains a critical question for Moscow to work through as well as for Washington to "learn to live with that reality."

Martin Indyk focused his remarks on Iran, noting that the P5+1 nuclear deal took the potential of a regional nuclear arms race off the table for at least a generation. This will make it easier to focus on the Middle East's other problems, such as ISIS. He advocated for additional support to U.S. regional allies in their efforts to manage the growing refugee crisis whilst working on creating a Sunni-led coalition to defeat ISIS. He also noted that in the context of Russia's role in the Syrian civil war, the challenge for the United States is to "pry Putin from Assad." This will require making credible assurances to Moscow that its interests will not be imperiled in a post-Assad environment.

Neera Tanden spoke of the centrality of issues related to the Middle East in American domestic discourse, especially in a presidential electoral campaign year. "Terrorism impacts the political conversation" in a number of ways, she said. America has no choice but to exemplify leadership. "Otherwise, others will make the choices for us, and these will always be worse." She also expressed concern about what she characterized as Turkey's "declining reliability and declining ability to be constructive," noting that this was challenging for U.S. policymakers seeking to effectuate positive change in the Middle East.

The high-level panel discussion took place before a maximum capacity crowd of several hundred.

Copies of the latest issue of CIRSD's flagship magazine Horizons were distributed during the event, which features essays by nearly 20 authors on pressing foreign and domestic U.S. policy matters.