CIRSD and IFRI Co-organized the Paris Horizons Discussion
The Center for International Relations and Sustainable Development (CIRSD) and the French Institute for International Relations (IFRI) co-organized a Horizons Discussion on September 15th in Paris.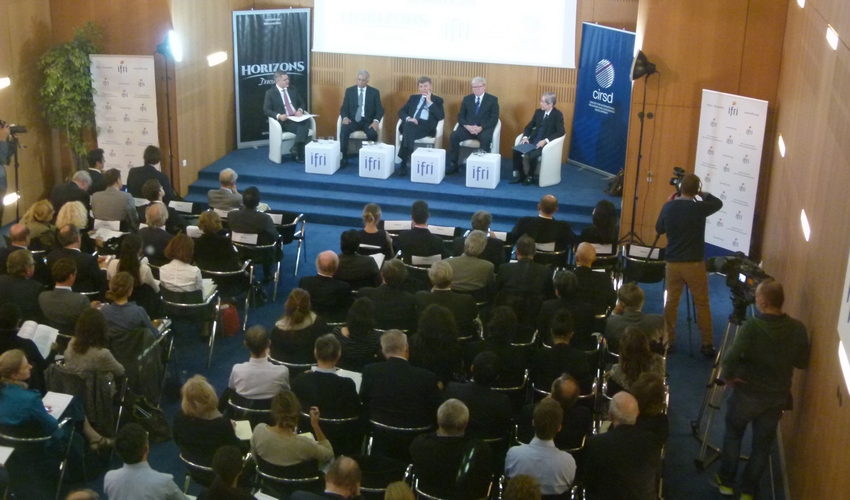 Moderated by CIRSD President Vuk Jeremić, the debate focused on the role of China in contemporary international relations, and featured four prominent panelists: former Prime Minister of Australia Kevin Rudd, former Prime Minister of Pakistan Shaukat Aziz, honorary president and director of the World Policy Conference Thierry de Montbrial, and Japan's former ambassador to the United Nations Tsuneo Nishida.

In his introductory remarks, Jeremić highlighted China's increasingly significant role on the international stage, noting that the international order is becoming hardly imaginable without China's presence.

The debate consisted of three segments covering China's relations with regional and global actors, major global initiatives involving China, and the outlook for Beijing's international role in the coming decade.

Speaking of China's relations with other major powers, Thierry de Montbrial stressed that there are still many opportunities to be explored in advancing Sino-European relations.

Kevin Rudd said that "China is completely committed to its long-term projections," adding that "a dramatic slowdown of the Chinese economy is not to be expected. Even in the present set of circumstances, their annual growth is unlikely to fall under six percent."

Shaukat Aziz said that "the U.S. dollar remains the dominant global currency, and that it is not in China's interest to fundamentally challenge the global financial order." He further stressed the importance of creating the Asian Infrastructure and Investment Bank and initiating infrastructure projects such as the 'One Belt, One Road' initiative. "These necessary initiatives help stimulate the global economy, and strengthen ties between regions and economies."

Tsuneo Nishida said that "China should not be regarded as a status quo power, especially since it keeps looking for new efficient modalities to structure global governance." Amongst other topics, the panel explored issues such as reform of international multilateral institutions, the role of China in the United Nations, and Chinese influence in Africa.

Held before a full capacity audience, the debate aroused a considerable amount of attention in the French public, intellectual elites, and Paris-based diplomatic corps.
Photo-gallery is available here