CIRSD Delegation Attends BSCSIF Annual Assembly Meeting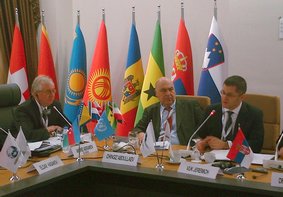 On Sunday 9 March 2014, the President of the Center for International Relations and Sustainable Development (CIRSD), Mr. Vuk Jeremić, together with CIRSD Executive Director Zdravko Ponos and CIRSD Senior Fellow Damjan Krnjević Mišković, attended the Annual General Assembly meeting of a prominent regional thinktank, the International Fund for Cooperation and Partnership of the Black Sea and Caspian Sea (BSCSIF).
A highlight of the meeting was the signing of an agreement between Mr. Jeremić on behalf of CIRSD and BSCSIF President Dr. Ismail Safi. The document establishes a framework to promote all-around cooperation, establish friendly exchanges and develop projects of mutual interest between the two public policy organizations.
In his remarks to the BSCSIF meeting, Mr. Jeremić spoke of the forthcoming centenary of the start of the First World War. He underscored how some observers are drawing parallels between diplomatic efforts in 1914 and those of 2014 in three theatres of significance: the Broader Middle East, East Asia, and the region encompassing the Black Sea and Caspian Sea basins. Mr. Jeremić informed the meeting that CIRSD will host a two-day conference in late May on this topic, entitled "European Tragedy of 1914 and the Multipolar World of 2014: Lessons Learned."
The BSCSIF meeting took place in Istanbul, where the CIRSD delegation also met with representatives of a leading Turkish thinktank, the Turkish Asian Center for Strategic Studies (TASAM), including its Chairman, Mr. Süleyman Şensoy, who was accompanied by Mr. Süha Umar, Turkey's former ambassador to the Republic of Serbia.
Established in 2009, the BSCSIF is a cross-border civil society initiative for launching common actions and strengthening peace, dialogue, harmony and cooperation between the countries of the wider Black Sea – Caspian Sea region in the field of enhancing democratic process, consolidation of civil society, economic development, environment, science, education, innovative technology, cultural diversity, tolerance and dialogue among civilizations. It enjoys Special Consultative Status with the United Nations Economic and Social Council (ECOSOC).