CIRSD Delegation Attends the "Abu Dhabi Sustainability Week" Conference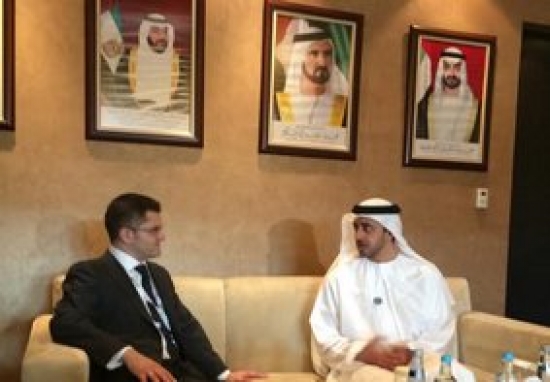 The delegation of the Centre for International Relations and Sustainable Development (CIRSD) completed today its participation in the "Abu Dhabi Sustainability Week", a major international energy sustainability conference, organized by the Government of the United Arab Emirates and Mubadala Corporation (Masdar). This year, the Conference had 30,000 participants from more than 150 countries.
CIRSD President Vuk Jeremić moderated the Conference's concluding high-level panel on the global economy in 2014, in which participated Philippe de Fontaine, Vice President of the European Investment Bank and Dimitris Tsitsiragos, Vice President of the International Finance Corporation of the World Bank.
During the stay in Abu Dhabi, Jeremić met with UAE Foreign Minister Sheikh Abdullah bin Zayed, with whom he discussed the situation in Syria and cooperation in moving forward on an international conference on the Middle East, which CIRSD plans to organize in Belgrade during 2014.
Jeremić also met with the UAE Minister of State responsible for the Environment, Dr. Sultan Ahmed Al Jaber (also CEO anf Managing Director of Masdar, a renewable energy company) inviting him to invest in projects in the fields of science and environmental protection in Serbia.
During numerous separate meetings at the Conference, Jeremić invited representatives of international organizations and companies to cooperate with CIRSD in promoting sustainable development in Southeast Europe, as well as to participate in raising energy efficiency in this part of the world.