CIRSD - Official Launch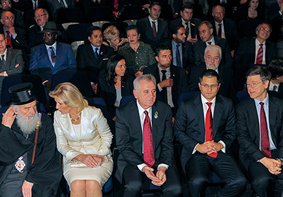 On November 5th, 2013, the Center for International Relations and Sustainable Development (CIRSD) held its inaugural event in Belgrade, featuring a keynote address by Columbia University Professor Jeffrey Sachs, one of the world's leading developmental economists and a member of the CIRSD Board of Advisors.
CIRSD President Vuk Jeremić played host to a number of special guests, including leading figures in Serbian political, academic, business, cultural and religious life—most notably the nation's president, prime minister, and foreign minister, as well as the Patriarch of the Serbian Orthodox Church.
The event also featured the premier showing of the documentary "67". This short film narrates the challenges that were faced by the Serbian presidency of the 67th Session of the UN General Assembly, focusing on the start of multilateral efforts at the UN to design the framework of the post-2015 sustainable development agenda. These included the creation of an Open Working Group to formulate and adopt the Sustainable Development Goals; the establishment of an Intergovernmental Committee of Experts tasked with proposing options for financing them, and the launching of the High Level Political Forum charged with monitoring their implementation.