Jeremić Addresses Californias Philanthropic Leaders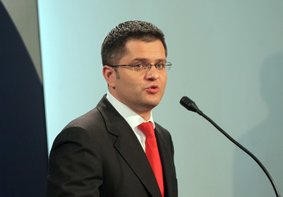 On Wednesday, March 12th, 2014, the President of the Center for International Relations and Sustainable Development (CIRSD), Mr. Jeremić, was the guest of honor at a special, invitation-only event in Los Angeles organized in cooperation with the UCLA Burkle Center for International Relations.
In attendance were some of California's most prominent philanthropic, political, and business leaders.
Mr. Jeremić led a wide-ranging discussion on contemporary global developments, speaking about some of the world's most pressing economic, social, and environmental issues.
Mr. Jeremić underscored how the centenary of the start of the First World War is causing many people to reflect back and draw parallels between the state of international relations in 1914 and 2014, both characterized by growing political integration and economic interdependence, as well as diplomatic tension. In his remarks, Mr. Jeremić focused on three important geostrategic theatres of significance: Ukraine, Middle East, and East Asia.
Drawing on his experience as President of the 67th Session of the United Nations General Assembly, Mr. Jeremic spoke of the importance of the UN's post-2015 sustainable development agenda, stressing the adverse effects of climate change on many parts of the world, including California. Mr. Jeremić also warned of the significant consequences of failing to promptly address the challenge of the world-wide increase in economic and social inequality, speaking of the imperative for leadership in crafting ambitious public-private-partnerships (PPP) in order to help the world achieve the goals of sustainable development.
The Burkle Center was established in 1979 by the American entrepreneur Ronald Burkle. It is a renown West Coast thinktank, fostering research and promoting discussion on complex issues of global cooperation and conflicts. It also runs the Burkle Global Impact Initiative, a program designed to activate the entertainment industry to engage more deeply and effectively with public policy, humanitarian, and advocacy issues.