Jeremić Gives Keynote Address at Economic Conference in Beijing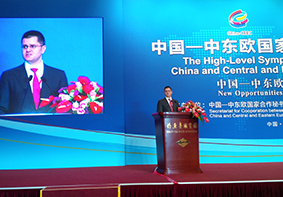 On December 19th, 2013, CIRSD President Vuk Jeremić gave a keynote address to the High-level Symposium of Think Tanks from China and Central and Eastern European Countries at the Diaoyutai State Guest House in Beijing.
The Symposium is the first follow-up conference to the Summit of Premiers from China and 16 Central and Eastern European Countries, which took place less than a month ago in Romania. It resulted in the issuance of the Bucharest Guidelines—a detailed action plan for enhancing economic cooperation between them.
Addressing a crowd of several hundred prominent opinion-makers and senior government officials from China and Central and Eastern Europe, Jeremic said that "choosing to enhance economic ties with China is one of the most critical decisions any leader from our part of the world can make at this juncture," adding that "this has become even more important given that intra-European economic activity will likely be insufficient for the sustainable development of Central and Eastern European countries."
In his remarks, Jeremić also drew attention to what, in his view, is one of the most far-sighted features of the Bucharest Guidelines, namely its emphasis on measures that constitute cornerstones of the UN's post-2015 sustainable development agenda. Aligning trade and investment endeavors with various aspects of sustainable development would help garner public support for deepening cooperation between China and Central and Eastern Europe, he concluded.
During the visit to Beijing, the President of CIRSD Vuk Jeremić, CIRSD Executive Director Zdravko Ponos and CIRSD Senior Fellow Damjan Krnjevic Miskovic visited the Chinese Academy of Governance, an institution of China's State Council that trains high-level civil servants, administrators and policy researchers; carries out cutting-edge public policy research; and provides consultation serves to the CPC and Chinese Government on matters of policy.
Jeremić was also appointed Honorary Advisor of the Academy's Research Center for International Affairs and Chinese Diplomacy, in a ceremony presided over by the Research Center's Director, professor Yu Jun.
The CIRSD delegation also met with China's Vice-Minister of Foreign Affairs Li Baodong, in order to exchange views on pressing international issues. Earlier, Jeremic met on the margins of the High-level Symposium of Think-Tanks from China and Central and Eastern European Countries with the Chian's State Councilor, Yang Jiechi.