Jeremić Lectures at Sciences Po in Paris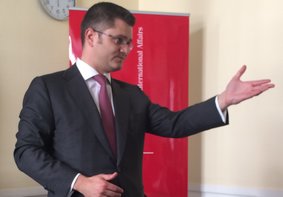 CIRSD President Vuk Jeremić delivered a lecture to students of the prestigious Paris School of International Affairs (Sciences Po) in which he underlined the importance of achieving an international consensus on the new global development goals as well as on the steps needed to avert the most dangerous effects of climate change.
Jeremić stressed the importance of adequately preparing next year's Climate Summit in Paris. He also emphasized how little time is left for the UN's Member States to agree on a universal set of Sustainable Development Goals that will need to be adopted by consensus in the UN General Assembly in September 2015.
In response to numerous student questions, Jeremić presented his views regarding recent developments in Ukraine, the Middle East, East Asia and the Balkans.
Jeremić also met with the Founder and President of the French Institute of International Relations (IFRI), Thierry de Montbrial, with whom he discussed working together on shared projects and establishing cooperation between CIRSD and IFRI—a leading French thinktank on international questions.
During his stay in Paris, Jeremić was accompanied by CIRSD Program Director Nikola Jovanović.