Jeremić Meets with Foreign Minister Lavrov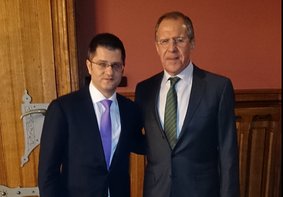 The President of the Center for International Relations and Sustainable Development (CIRSD) Mr. Vuk Jeremić is visiting the Russian Federation and today met with the Foreign Minister of the Russian Federation Sergey Lavrov.
Jeremić and Lavrov excanged views on many of the most pressing international issues, including the crisis in Ukraine and the situation in the Middle East. Jeremić, who is leading the CIRSD delegation, presented to Minister Lavrov the Center's plan of work and informed him about the international conferences which CIRSD will organize in 2014.
During its stay in Moscow, the CIRSD delegation will meet with Anatoly Torkunov, the Rector of MGIMO University, which is the most influential Russian educational institution for diplomats and students of international relations, established by the Ministry of Foreign Affairs of the Russian Federation.
In addition, Vuk Jeremić and the rest of the CIRSD delegation met with the leadership of the Moscow-based "Gorchakov" Institute to discuss the establishment of institutional cooperation between the two thinktanks, as well as opportunities to develop joint projects.