Jeremić speaks at Singapore's Asia Summit
The President of the Center for International Relations and Sustainable Development (CIRSD) Vuk Jeremić participated in the Milken Institute's Asia Summit. The two-day international conference in Singapore featured Jeremić as a panelist in the Global Risks session.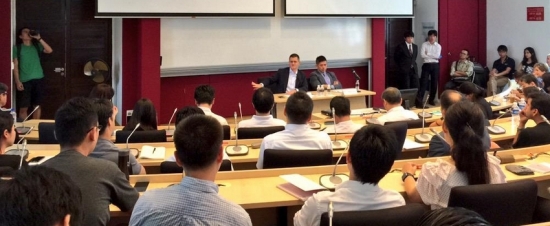 CIRSD's President said that the world is in flux and that many are under the impression that the international community is losing control over processes likely to affect the future of mankind in the 21st Century. Jeremić pointed out that some of the weaknesses in the existing global governance system and the suboptimal performance of international organizations both result in a widespread lack of trust in the United Nations and in unequal economic development. He also stated that the lack of mutual trust between key global actors could have a disastrous effect on the final stage of climate change negotiations and on maintaining peace and stability throughout the world.

Jeremić's Singapore visit included a lecture at the renowned Lee Kuan Yew School of Public Policy of the National University of Singapore, where he spoke on a plethora of international issues. Amongst other topics, CIRSD's president discussed the need for modernizing the United Nations as the key international institution. Without enhancing its efficacy and transparency, the United Nations will be in danger of ceasing to be the main platform to harmonize and coordinate member states, and might thus fail at maintaining global peace and promoting sustainable development. "In today's increasingly interdependent world, all risks and positive results are de facto common. In such a world, multilateral diplomacy will either have its renaissance or see the world gradually descent into chaos," Jeremić said. He devoted a portion of his address to assessing the remaining multilateral institutions, as well as ways to advance global political and economic governance. CIRSD's President stressed the importance of regional forums and strengthening mechanisms in advancing cooperation with global organizations.