Jeremić Speaks at the Warsaw Security Forum
CIRSD President Vuk Jeremić served as a keynote panelist to the opening session of the 2015 Warsaw Security Forum, taking place in the Polish capital on November 5th and 6th.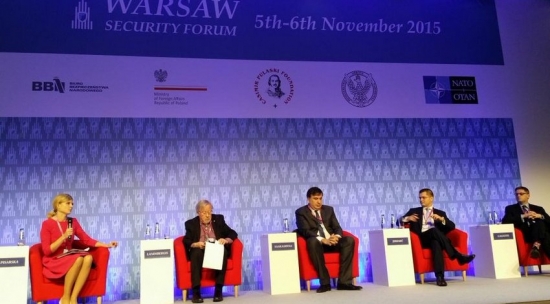 Entitled "The Rise of the West in a post-Western World," the panel explored the question of ongoing Western influence in the multipolar world of the 21st century. Other panelists included Vytautas Landsbergis, former President of Lithuania; and Mikheil Saakashvili, former President of Georgia. The opening lecture was delivered by Tomasz Siemoniak, Poland's Deputy Prime Minister and Minister of National Defence.

In his remarks, Mr. Jeremić stressed the critical contributions that the West will undoubtedly keep making to the conduct of international relations in the time ahead. "Its continuing leadership in driving the global agenda will likely be tested, yet the West's preeminence in technological innovation as well as research and development, not to mention the unquestionable excellence of its best universities, will give it tremendous staying power from a political, economic, and security point of view. Its active engagement in effectuating the world's transformation towards sustainable development and the fight against climate change will be another crucial indicator of it global authority."

The mission of the Warsaw Security Forum is to enhance understanding of European and NATO security policy through high-level dialogue between key policymakers and experts on past, current, and future international security issues. Other high-level participants included current and former presidents, prime ministers, and ministers of foreign affairs and defense from Central, Eastern, and Southeastern Europe, as well as numerous members of parliament, renowned academics and respected security analysts.