Jeremić Speaks on Future of the UN at EastWest Institute
On 22 June, candidate for UN Secretary-General Vuk Jeremić spoke about his vision and presented his platform as part of the SMART Talk series at the EastWest Institute (EWI) in New York.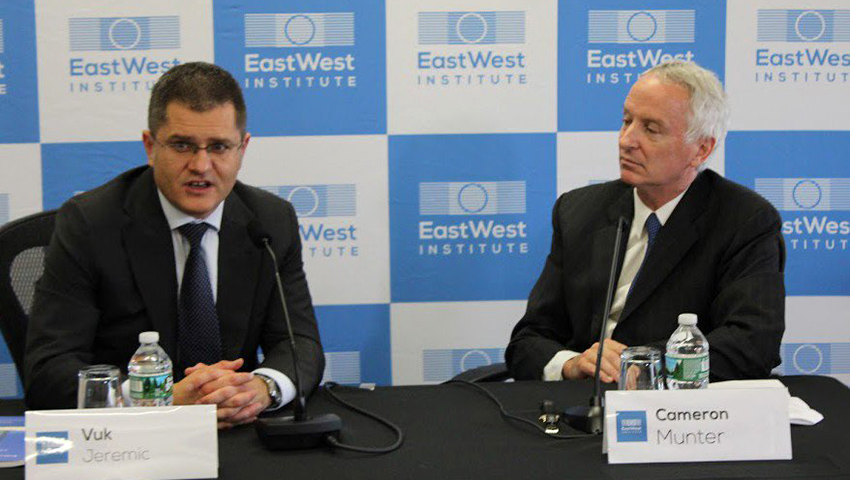 The East-West Institute is one of the world's leading conflict resolution organizations with a 35-year track-record of engaging in back channel diplomacy and trust building in achieving sustainable solutions to political, economic, and security issues around the world.
Jeremić joined EWI President Cameron Munter in a wide-ranging discussion on global affairs and candidly spoke about his platform for Secretary-General and the future of the UN, as well as multilateral diplomacy and conflict resolution around the world.
"The United Nations is in need of robust restructuring and revitalization," Jeremić said, adding that this year's election is especially important given today's "transformational times" and the fact that the UN has not necessarily kept up with the fast-moving pace of current developments.
Referring to his platform and its 53 concrete and realistic commitments, Jeremić underlined the importance of introducing transparency measures including the protection of whistleblowers, public disclosure of senior UN officials' financial records, and the establishment of an independent financial oversight office.
He also reiterated his commitment to prioritizing the implementation of the 2030 Agenda for Sustainable Development, including its climate provisions.
Jeremić stressed the impact of the changing world order on the UN's role in conflict prevention and resolution, humanitarian aid, and counter-terrorism, all of which are exemplified by the Syrian conflict. He also spoke about the need to take greater account of critical bilateral relationships such as the one between the United States and China, and the increasing importance of countries such as India to the conduct of multilateralism in the 21st century.
As the discussion drew to a close, Jeremić also took on the question of gender parity within the UN. He described this election for Secretary-General as a "watershed moment" for women in the UN, committing himself to achieve gender parity within the Organization and redress the historical failure to do so during his term in office.