Miguel Moratinos Delivers Lecture at the Faculty of Political Science in Belgrade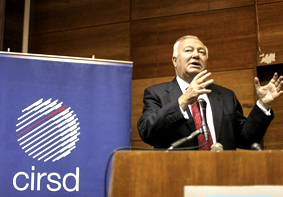 On November 19th, 2013, Miguel Moratinos, Spain's former foreign minister and the Honorary Chairman of the Board of Advisors of the Center for International Relations and Sustainable Development (CIRSD), delivered a lecture at the University of Belgrade Faculty of Political Science entitled "The World in Flux: A View from Europe."
Addressing a packed audience of students and professors, Mr. Moratinos underscored that the world of the 21st-century continues to act as if we were living in the 20th. "The new challenges we face require a grand reorganization of the institutions that make up the international community," he concluded.
Following his lecture, Mr. Moratinos was joined by CIRSD President Vuk Jeremic, as well as professors Radmila Nakarada and Ivo Viskovic, Serbia's former ambassador to Germany, for a follow-up panel discussion.
Mr. Moratinos, who earlier in the day was awarded one of Serbia's highest decorations by President Tomislav Nikolic, said that the Serbian people should be proud of the fact that their country did not always accept attempts by outsiders to impose their views.
He also underscored that during his term in office as Spain's foreign minister, he and his government were subjected to pressures to recognize Kosovo's unilaterally declared independence, but that their position remained unchanged. He urged the audience not to allow their country to be influenced by those who say that nothing can be changed and that everything is already decided.
Mr. Moratinos also expressed his belief in Serbia's future membership in the European Union. "Serbia and all the Balkans have to become a part of the EU, so this region can infuse the Union with a new spirit, energy, and ideas," adding that European have an enormous responsibility to help shape a new world. "Fortress Europa cannot turn inward, only focusing on itself," he said.