Priority Tasks in the Process of European Integration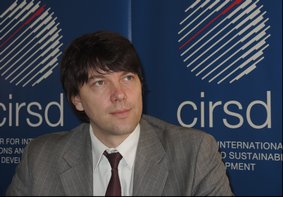 The Program Director of the Center for International Relations and Sustainable Development (CIRSD), Nikola Jovanović, participated in a panel discussion organized by the European Movement in Serbia on March 21st, 2014 in Novi Sad. The panel discussion was entitled "Serbia and the EU after the opening of negotiations - a new stage in the process of European integration," and also featured presentations by the Head of the European Unions Delegation to the Republic of Serbia, Ambassador Michael Davenport, as well as by the President of the Government of Serbia's Autonomous Province of Vojvodina, Bojan Pajtić.
Jovanović said that the official start of the accession negotiations brings to an end the phase of empty political slogans and often superficial harmonization of Serbia's legal framework, replacing it instead with a qualitatively different phase which requires dedicated work, full harmonisation, concrete reforms and professional expertise. The key areas that should be addressed at the beginning of the negotiations, inspiring the inculcation of European practice in the country, are judiciary, public finance management and media reforms.
Underscoring the lack of attention to environmental issues in Serbia, the CIRSD Program Director emphasized that priority tasks should include adopting a new comprehensive national strategy for sustainable development, increasing Serbia's energy efficiency, and completing the construction of infrastructure.
Jovanović underlined that the process of European integration can be a catalyst for completing all the important reforms in the country, while emphasizing that the state must remain responsible for crafting development plans and negotiating with the European Union in a way that advances the interests of the citizens of Serbia.