Prof. Christopher Clark Speaks About WWI at CIRSD Conference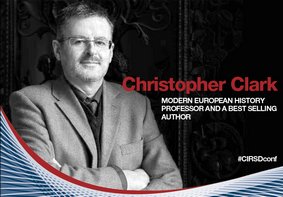 Professor Christopher Clark of the University of Cambridge participated in the international conference entitled "The European Tragedy of 1914 and the Multipolar World of 2014: Lessons Learned" on 30-31 May 2014, organized by the Center for International Relations and Sustainable Development (CIRSD). He took part in a panel discussion on "The Coming of World War I: What Kind of Failure?", which sought to provide some clarity to the question of whether the outbreak of the Great War in August 1914 was a failure of diplomacy, or a failure of foresight on the part of political and military elites, who went to war open-eyed but miscalculated consequences.
His full-length opening statement can be viewed here.
After the conference, Professor Clark stated that CIRSD has done a fantastic job in bringing together high profile political figures and interesting thinkers and academic people to reflect on geopolitical problems in a historical setting, noting that the resulting conference produced a rich debate that has brought to light many parallels between the world of 1914 and the world of today.
His full post-conference statement can be viewed here.
Christopher Clark is a Professor of Modern European History at the University of Cambridge and a Fellow of St Catharine's College, as well as a Fellow of the Australian Academy of Humanities. He is the author of various books on modern German and European history, including the one on the history of Prussia entitled Iron Kingdom: The Rise and Downfall of Prussia 1600-1947 (2006). His latest book is a study of the outbreak of the First World War entitled The Sleepwalkers: How Europe Went to War in 1914 (2012)