Silk Road Forum Held in Madrid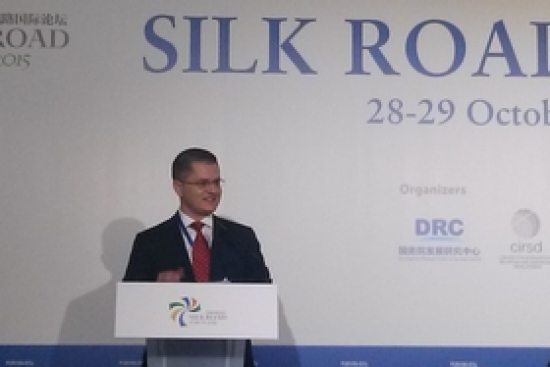 The 2015 Silk Road Forum was held on October 28th and 29th, 2015, in Madrid, Spain. This year's international conference brought together more than 100 speakers from over 30 countries, including current and former heads of state, ministers, and CEOs of top Fortune500 international companies, as well as renowned academics and members of think-tanks and institutes, in addition to senior officials from various international organizations and IFIs, to explore the strategic potential of the 'One Belt, One Road' concept.

The Silk Road Forum was co-organized by the Center for International Relations and Sustainable Development (CIRSD) and the Development Research Center (DRC) of the State Council of the People's Republic of China, in partnership with the Chinese Embassy in Spain, the China Development Research Foundation, the United Nations Development Programme (UNDP), the UN Finance Center for South-South Cooperation, and the Toledo International Center for Peace (FRIDE).

CIRSD President Vuk Jeremić opened the conference, stressing the strategic nature of the 'One Belt, One Road': "this initiative, if successful, could fundamentally transform the politics and economics of globalization in 21st century. It could also reinvigorate European economies, helping to ensure sustainable and long-term growth by deepening access to dozens of dynamic emerging markets to the east."

In his keynote address, Minister Li Wei, the President of DRC and a member of the CIRSD Board of Advisers, noted that the One Belt, One Road initiative will create a huge platform for the nearly 70 countries directly involved to connect their markets, match their resources, and become more fully integrated in the industrial chain and the innovation economy." He further stressed that the Silk Road is an important way to optimize the structure of global governance, advance sustainable development throughout the world, and create endless new economic and cultural opportunities that should take into consideration the interests of all participants, not just the big countries.

Other keynote speakers included Spain's Foreign Minister Jose Manuel Garcia-Margallo, Madrid mayor Manuela Carmena, HSBC Group Chief Executive Stuart Gulliver, China Investment Corporation Executive Vice President Ju Weimin, CEO of Partners Group Singapore Kevin Lu, former Croatian president Stijepan Mesic, former Spanish foreign minister Miguel Moratinos, and former Indonesian foreign minister Hassan Wirajuda, as well as senior officials from the World Bank, UNDP, UNCTAD, UNIDO, EBRD, OECD, Asia Development Bank, China Development Bank, and Silk Road Fund.

Topics covered during the 2015 Silk Road Forum plenary sessions included infrastructure connectivity, international cooperation in production capacity, Silk Road construction, and the impact of the UN 2030 Agenda for Sustainable Development on the One Belt, One Road' initiative. In addition, the Forum featured three thematic roundtable discussions, respectively focusing on think-tank cooperation, business cooperation, and financial cooperation. Each of these in-depth interactive sessions featured around 30 participants.
Jeremic and Li Wei Launch Silk Road Think Tank Network
The first-of-its-kind Silk Road Think Tank Network (SiLKS) was launched during the 2015 Silk Road Forum. The ceremony was led by Mr. Jeremić and Minister Li, who were joined by representatives from more than 40 other think-tanks and international organizations. These include Chatham House (UK), Elcano Royal Institute (Spain), Institute of Development Studies (UK), Institute of World Economics and Politics (Kazakhstan), Centre for Strategic and International Studies (Indonesia), China Energy Fund Committee (Hong Kong), German Development Institute (Germany), Századvég School of Politics Foundation (Hungary), Korea Institute for International Economic Policy (South Korea), Russian Academy of Sciences (Russia), Geoeconomic Forum (Croatia), Center for Strategic Research (Turkey), Institute for Strategic Studies (Mongolia), and Swedish Agency for Growth Policy Analysis (Sweden).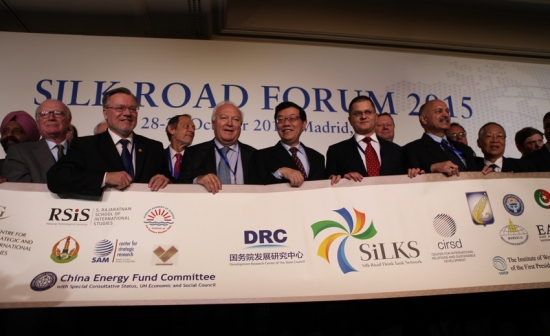 SiLKS is expected to harness the analytical and research resources of its members and partners to advance economic and trade cooperation and cultural inclusiveness. This approach marks a new step towards building a high-end international platform for think tank cooperation. It will also gather the resources of its members and partners to provide policy consultation services for governments and enterprises. Global think tanks will also be able to increase information exchange through meetings and joint policy research and consultation projects.

Underscoring the importance of SiLKS, CIRSD President Jeremić said that "in order to make the Silk Road region into a global center of attraction, leading think-tanks from all our countries will need to work more closely together—to help our government and business leaders make the right strategic decisions and so propel our nations forward through mutually-beneficial cooperation for sustainable prosperity." He further noted that CIRSD, together with the DRC, jointly initiated the establishment of SiLKS at the inaugural Silk Road Forum, held in Istanbul in 2014, and expressed confidence that this network will become an increasingly important resource for decision-makers in the time ahead.