The Blue Green Dream Project Presentation in Belgrade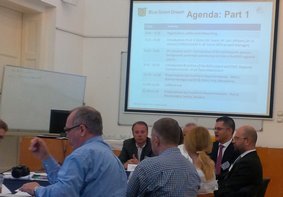 The President of the Center for International Relations and Sustainable Development (CIRSD), Mr. Vuk Jeremić, delivered opening remarks at the kick-off meeting of the Blue Green Dream Regional Center for Central and South Eastern Europe.
The Blue Green Dream project presents a new, innovative and technologically-advanced paradigm for planning and managing urban water systems (blue assets) and urban vegetated assets (green infrastructure) not as separate systems, but rather as a synergistic whole. Through merging these blue and green systems, it seeks to provide multifunctional Blue Green Solutions that support urban adaptation to climate change, in furtherance of the UN's post-2015 sustainable development agenda.
The Blue Green Dream project is headed by Dr. Čedo Maksimović, Professorial Research Fellow in the Department of Civil and Environmental Engineering of Imperial College London, one of the the UK's most prestigious universities.
In his remarks, Mr. Jeremić drew on his experience as President of the 67th Session of the UN General Assembly, which played a critical role in setting the stage for the post-2015 agenda. Mr. Jeremić voiced his strong support for a standalone Sustainable Development Goal dedicated to urban sustainability, underlining the importance of projects such as the Blue Green Dream in helping cities achieve adaptation to climate change.