The Team of the Presumptive President of the UN General Assembly Visits CIRSD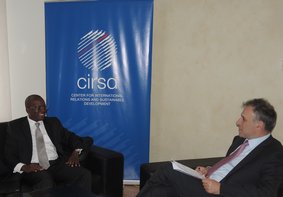 Senior members of the Office of the presumptive President of the 69th Session of the United Nations General Assembly, H.E. Mr. Sam Kutesa, Foreign Minister of Uganda, are being hosted in Belgrade by the Center for International Relations and Sustainable Development (CIRSD) for a week-long study visit.
CIRSD President Vuk Jeremić, together with CIRSD Executive Director LtGen (ret) Zdravko Ponoš, CIRSD Senior Fellow Mr. Damjan Krnjević Mišković, and CIRSD Program Director Mr. Nikola Jovanović, have shared best practices and other experiences acquired during the Serbian presidency of the 67th Session of the United Nations General Assembly (PGA67).
The delegation from Uganda, headed by H.E. Amb. Arthur Kafeero, will also visit the Ministry of Foreign Affairs of the Republic of Serbia, where they will meet with other members of the Office of PGA67.
During their visit, the delegation from Uganda has had an opportunity to exchange views with their Serbian counterparts on issues related to the conduct of the presidency of the General Assembly, and learn about the priorities of the 67th Session as well as discuss those of the 69th. These include the post-2015 sustainable development agenda, climate change, strengthening multilateralism and the role of the General Assembly, peacebuilding, and human rights.