Vuk Jeremić and Jeffrey Sachs – Press Conference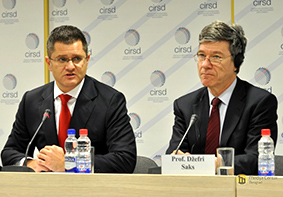 A press conference was held in the Media Center Belgrade on the occasion of the launch of the Center for International Relations and Sustainable Development (CIRSD) on November 5th, 2013.
Addressing the media were CIRSD President Vuk Jeremić and Columbia University Professor Jeffrey Sachs, one of the world's leading developmental economists and a member of the CIRSD Board of Advisors.
President Jeremić spoke of CIRSD's aim to provide high-quality, independent research and analysis in its three key program areas (International Relations, Sustainable Development, and International Law), as well as organize conferences, panel discussions, seminars, and workshops where senior government officials, top businessmen and entrepreneurs, and outstanding thinkers can come together and debate major international challenges. President Jeremić also announced the members of the CIRSD Board of Advisors, who are former presidents, premiers, ministers, and renowned professors.
Professor Sachs outlined how CIRSD will be institutionally linked to Columbia University's Earth Institute and the UN Sustainable Development Solutions Network. In their remarks, both spoke of ongoing efforts to design a global sustainable development strategy within the framework of the UN's post-2015 agenda, underlining the importance of including Southeast European countries into this process.