Vuk Jeremić Delivers Two Lectures at Princeton University
The President of the Center for International Relations and Sustainable Development (CIRSD) Vuk Jeremić delivered two lectures at Princeton University.
Jeremić delivered his first lecture in the Princeton Whig Senate Chamber, focusing on global cooperation in the era of sustainable development.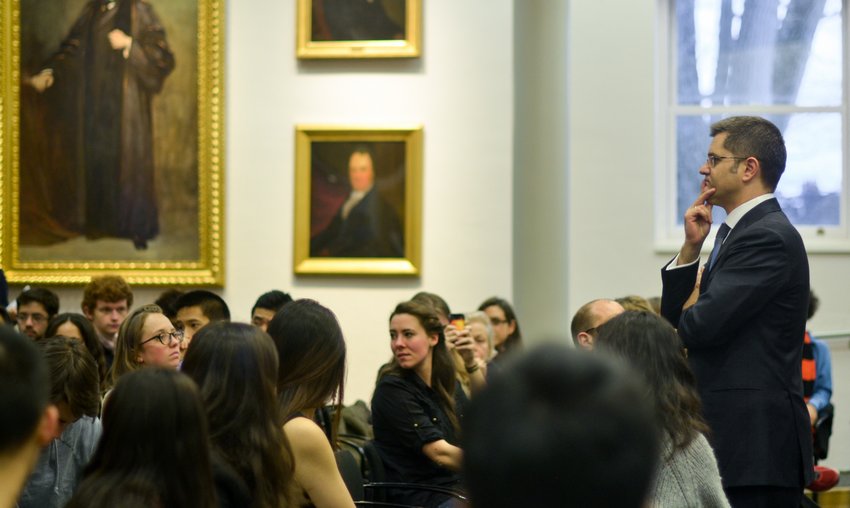 Addressing a large crowd of students and faculty, Jeremić said that sustainable development "calls for socially inclusive and environmentally bearable economic growth across the world, without downplaying the vast and varied differences in local, national, and regional circumstances." Achieving it, said Jeremić, will require "a series of concurrent, aspirational and bold measures, coordinated at the global level by leaders who understand the absolute necessity of entering into the sort of cooperative effort which has not been seen in all of human history."
Jeremić called for the establishment of a broad coalition of governments, multinational corporations, thinktanks, universities and research centers, international financial institutions, venture capitalists, and every other branch of society that can help the world achieve sustainable development.
"But," Jeremić concluded, "we have to start at the very top. World leaders—heads of state and government—need to get personally engaged. This should become embedded in the worldview of all who formulate and execute not just domestic but also foreign policy: achieving sustainable development must assume its necessary place at the heart of the conduct of international relations in the 21st century."
Jeremić's second speech took place at Princeton University's Woodrow Wilson School of Public and International Affairs. With more than one hundred students in attendance for the evening lecture, Jeremic focused on Eastern Europe and the Black Sea region, with a particular emphasis on Ukraine and Turkey. In a broad-ranging discussion, Jeremic explored how the countries of this dynamic, multi-cultural and multi-confessional part of the world are working to answer deep questions of political identity, economic partnership, and regional security.