WSF: Strategic Rivalry? The European Union, Russia and China in the Western Balkans
CIRSD President Vuk Jeremić participated in an online webinar themed "Strategic rivalry? EU, Russia, and China in Western Balkans", organized as a part of the annual Warsaw Security Forum, on November 17th, 2020.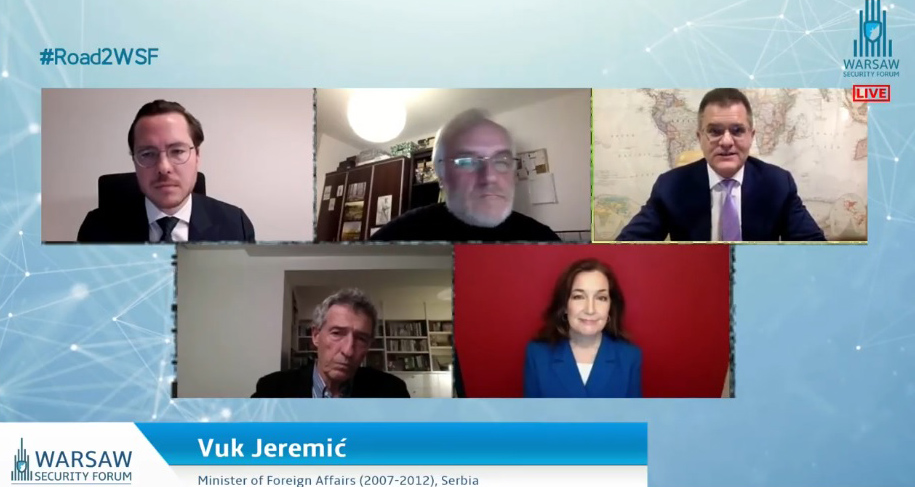 In his remarks, Jeremić stressed that Serbia is "backsliding on its path to the EU" and that it will not move forward as long as Aleksandar Vučić and his political party remain in power.
"Serbia has ceased to be a democracy. And this is not just my subjective view, but also the assessment of external actors like the Freedom House that classified Serbia as a hybrid regime. For the first time since the ousting of Slobodan Milošević, we were relegated from a free state into a partly-free state," he said.
Jeremić stated that Serbia is currently the only country in Europe, besides Belarus, without an opposition in the parliament. He added that despite controlling a 90 percent majority in the parliament, Vučić still gets commended by some European leaders.
Commenting on the Bulgarian veto to the EU accession process of North Macedonia, he described it as "outrageous", adding it could have considerable consequences on European integration of the entire region.
When asked if China, with its 17+1 initiative towards countries of Central and Eastern Europe, is trying to divide the Old Continent, he replied that "geopolitics is not a charity".
He concluded that from China's perspective, it is easier to have relations with individual states rather than the EU as a whole, and that this foreign policy approach is understandable. It is Europe's turn to draw a countermove in that chess-game, demonstrating a united European front.