West Africa Is Being Swallowed by the Sea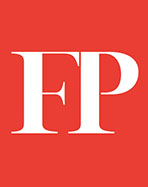 FUVEMEH, Ghana — The tide is just starting to come in when David Buabasah begins nervously checking the waters creeping up the coastline toward his partially destroyed home.
As the high tide mounts the steep shore of this small Ghanaian fishing village perched on a shrinking peninsula between the Atlantic Ocean and the Volta River estuary, he and other inhabitants prepare for the worst.
"When the big waves come, they can easily kill you. Last week, the ocean took away part of my house while my family was sleeping inside," says the 32-year-old fisherman, gesturing toward a crumbling brick wall and a pair of door frames, the only remains of his family's compound.
Growing stronger by the minute, the tide begins to push wave after wave into the village, pounding the dilapidated dwellings with unrepentant force. House walls collapse under the fury of the ocean, and huge pools of saltwater fill the center of town. Those whose houses are the closest to the shoreline can only watch as the waves carry away all of their belongings.
The article's full-text is available here.