From Decisions to Action - Achieving the SDGs
Ulogujte se
Pretplatite se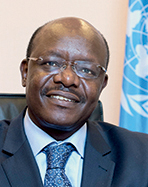 Mukhisa Kituyi is Secretary-General of the United Nations Conference on Trade and Development (UNCTAD), having previously served as Kenya's Minister of Trade and Industry. You may follow him on Twitter @UNCTADKituyi.
We are resolved to free the human race from the tyranny of poverty and want and to heal and secure our planet. We are determined to take the bold and transformative steps which are urgently needed to shift the world on to a sustainable and resilient path. As we embark on this collective journey, we pledge that no one will be left behind.
– Preamble, Transforming our World (2015)

SEVENTY years ago, the peoples of the world embraced multilateralism to prevent a recurrence of the Great Depression and international conflict through more effective global collective action and a new global economic architecture. Since that time, global cooperation has allowed humanity to rise from the ruins of unprecedented destruction and throw off the chains of a colonial system, affirming the right and principle of self-determination.

More recently, we have moved from a world dominated by North-South and East-West divisions to one of truly global interdependence. With rising trade, financial and investment flows, technological advancements, and the dawn of the Information Age, our world has also become interconnected to a degree never before experienced. Governments have harnessed these forces in productive ways, and nearly a billion people have been lifted out of poverty in the past two decades alone.

With the adoption of the 2030 Agenda for Sustainable Development in September 2015, the world community raises the bar further, demanding that no one be left behind: it is not enough to reduce poverty; we must eradicate it; and we must attain prosperity for all on a global scale. In this essay, I argue that only through the pursuit of common solutions-through strong multilateralism-can we achieve the Sustainable Development Goals (SDGs), and the universal ambitions they embody.

Da nastavite sa čitanjem, molimo Vas da se ulogujete ili pretplatite