The "Belt and Road" Initiative and its implications for Southeast Europe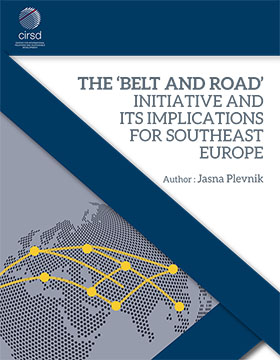 THIS PAPER explores the opportunities and challenges of developing cooperation between the countries of Southeast Europe and China within the framework of the "Silk Road Economic Belt and 21st Century Maritime Silk Road" development project, which China presented publicly in 2013. The central goal of this project, which is most often called the Belt and Road Initiative (BRI), is the possible shared benefit and added value from interdependent development for all participants involved in the new economic integration of China, Asia, Europe, and Africa.

China has invited Southeast European countries to join the BRI project, which aspires to modify the world's economic geography and ensure the development of all countries along BRI routes. China's further fostering of relations with the countries of Southeast Europe aims at maintaining stable growth rates in China by expanding the market for Chinese goods, finding new areas for investing Chinese capital in the energy sector and, above all, improving the transport infrastructure sector. Southeast European countries, on the other hand, would benefit from being included in this new global network of trade—along both land and sea routes.

The benefits of the Belt and Road project ought to be presented in the context of a broad timeframe and with an emphasis on understanding its potential. This does not mean that the project will last forever: no one can confidently predict what the world will look like in twenty years; something unexpected always happens. The financial crisis of 2008 has shown how dangerous an overreliance on neoliberal policies can be. Yet, this does not relieve Southeast European countries of their obligation to focus on developing a vision of their own position in tomorrow's economic world order, so as not to be left behind.
This policy paper describes the basis behind the possibility of implementing the Belt and Road Initiative and analyzes its compliance with the goals and aspirations of the "China and 16 Central and Eastern European Countries" (also known as the "16+1") initiative launched in 2012, which includes most of the countries of Southeast Europe. The launch of the 16+1 initiative is built on China's assessment that its relations with the 16 countries of Central and Eastern Europe is largely imbalanced in comparison with its trade and investment relations with developed EU member states.

This paper presents arguments and evidence that BRI is in harmony with the development policies and regulations of the European Union, something which is of importance for EU member states and EU membership candidate countries.

The key findings of this paper demonstrate that Southeast European countries have an historic opportunity to further develop economic relations with China and attract investment within the framework of the Belt and Road Initiative. Partaking in this initiative would not only result in strengthening economic relations with China, but would also lead to better economic ties with other countries associated with BRI. Participation in this project would also enable the countries of Southeast Europe to improve their position as attractive emerging markets through a combination of developed economies' best practices alongside those of China's economy and other developing countries along BRI.
Download