China – Central and Eastern Europe (CEE) cooperation framework
Moving the "16+1" forward with new economic policies
As the China–Central and Eastern Europe (CEE) cooperation framework known as "16+1" stretches into its 5th year, there is now a common understanding among the seventeen participating countries about the general context of this mechanism, and a shared perception that it can benefit all economies involved.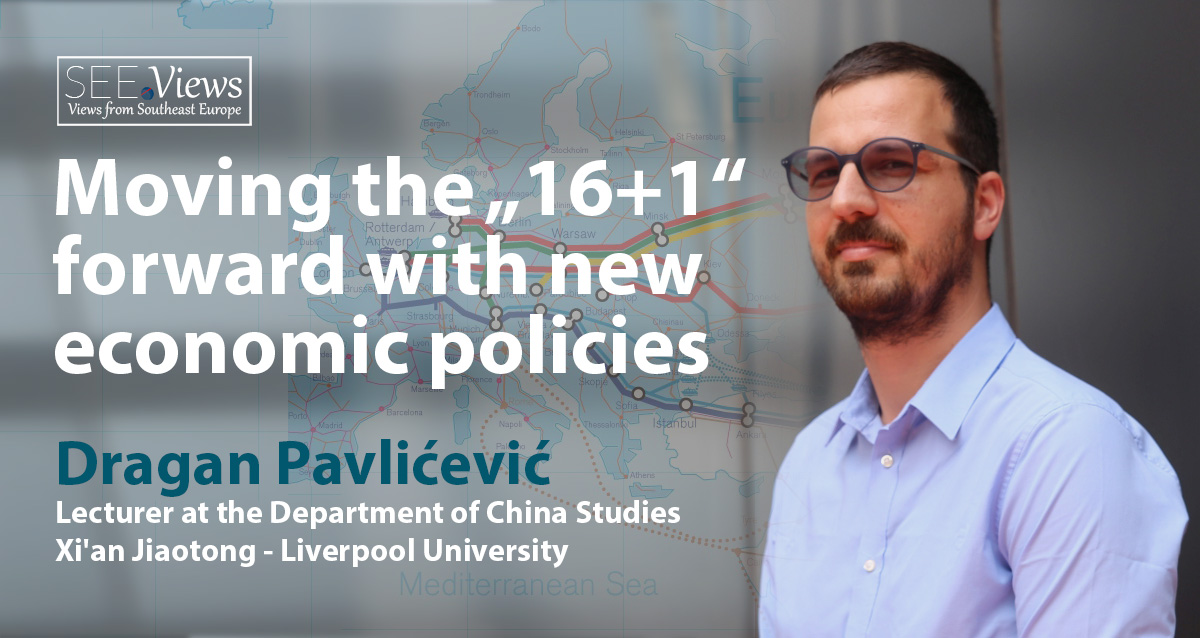 So far, the economic cooperation under 16+1 has mainly focused on identifying opportunities for big-ticket construction projects and on acquisitions of major industrial assets in the CEE region through state-level coordination – with China's state-owned enterprises the key beneficiaries of these activities. Efforts to deepen cooperation along these lines should continue, as there is a clear necessity to upgrade the region's energy and transportation infrastructure. As such, the 16+1 provides an excellent platform for the CEE countries to adopt a multilateral approach and identify and implement those projects that would be most beneficial for the region's economic development.
However, there is now also a need to flesh out some fresh policies to keep and grow the momentum, and address the shortcomings of the existing approach. Many in the CEE region argue that the 16+1 has so far failed to offer compelling opportunities to the private sector, and lament the trade balance that remains heavily tilted in China's favor. Hence, the current focus on state actors and large-scale projects should be supplemented by another one aiming to provide a stronger role to the private sector, and particularly to SMEs on both sides, and to increase the accessibility of the Chinese market for CEE businesses.
So, what could be done?
First, more incentives and support could be offered to Chinese manufacturers to establish production base in CEE. Given the importance of European markets for China's manufacturing sector, the fact that relocation of production capacities from China to CEE has not yet taken place at a larger scale must be regarded as a missed opportunity. The comparative advantages and proximity of the CEE region to all major European markets could offer a counterweight to current economic trends in China, where enterprises find it increasingly challenging to maintain their profits amid the rising costs of production and transport and as the country emphasizes developing tertiary and higher added-values sectors of the economy. 16+1 could rely on China's positive and rich experience in the establishment and management of manufacturing hubs/industrial zones both at home and abroad. The city of Suzhou, for example, where the 2015 edition of the China- CEE Summit took place, shows how powerful an impact industrial and development zones can have on the local economies. Thanks to its two development zones, which attracted greenfield investments by numerous foreign-invested and private sector enterprises, Suzhou is today one of the most dynamic municipal-level economies in China. 16+1 could aim to replicate such a model and resulting success in the CEE region. Appropriate policies, funds and mechanisms for implementation are badly needed on both sides of the 16+1 equation to attract Chinese companies to industrial and development zones in the CEE.
Second, more support should be offered to CEE companies, and particularly SMEs, to access and establish themselves in the Chinese market. To that end, the existing multi-billion credit line for strategic 16+1 projects could be supplemented with another multilateral fund focused on providing financial support, in the form of favorable loans, to enterprises from CEE targeting the Chinese market. Within this effort, local chambers of commerce on both sides should be involved in a leading role. This will provide opportunities for CEE companies searching local partners and know-how to seek counterparts among the private-sector companies in China, and create opportunities for joint exploration of opportunities in the Chinese market.
Third, more efforts should be put into developing a CEE brand in China. CEE region products still suffer from insufficient recognition and reputation in China, including in sectors where CEE countries particularly hope to see greater access to the Chinese market, i.e. agricultural products, and food and beverage industry. There are commendable efforts by China to improve awareness of CEE and CEE products domestically, such as regular China-CEE trade fairs and the establishment of the permanent CEE countries' pavilions in Ningbo. But these will not be enough to raise CEE products' profile. Therefore, these soft promotional tools could be supplemented with targeted preferential government procurement policies. For example, China's state-owned enterprises involved in the wholesale and retail sector could contribute by allocating quotas to CEE products over a certain period of time. These quotas would then be progressively reduced over a defined period. Such a policy would help both Chinese customers to familiarize with CEE brands and products, and CEE companies to test the Chinese market. Given the sheer size disparity between CEE's and China's markets, this initiative could link individual CEE countries with municipal-level markets in China. The model used to promote agricultural cooperation within China's multilateral platform with Africa that paired up individual Chinese provinces with individual African countries provides a good initial reference to policy-makers.
These three initiatives would go some way in addressing the existing concerns on the side of the CEE countries about the prospects of economic cooperation under the 16+1. They would also send a clear signal that China is ready to customize its regional economic diplomacy to the needs of the CEE region in order to uphold the principle of win-win relations and mutual benefits, and would contribute to a new momentum for 16+1 going forward.
Dragan Pavlićević is Lecturer at the Department of China Studies, Xi'an Jiaotong - Liverpool University. He researches on both China's domestic and foreign affairs, and is particularly interested in participatory politics, China's relations with Europe, and the politics of China's overseas infrastructure projects. Dragan's research has been published in both academic and think-tank publications.