Regional Multilateral Banks in a New Global Context - The Experience of CAF - Development Bank of Latin America
Login
Subscribe now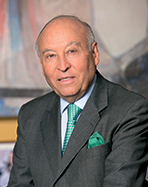 Enrique García is President of CAF - Development Bank of Latin America.
THE WORLD economy has experienced a major change in the last quarter century. Emerging and developing economies have increased their share of global GDP from 40 percent in 1990, to 58 percent in 2015. These economies today represent more than 68 percent of the world's GDP growth. However, the gap between industrialized and developing countries is still substantial. In fact, there are very large unmet economic, social, and financial needs in the emerging and developing world. These require long term comprehensive strategies, profound structural reforms, and financial resources in amounts not available within their boundaries.

Multilateral development banks have traditionally played an important role in supporting development. Insufficient domestic savings and long term financing issues have hindered the achievement of stable, sustainable, and balanced economic growth. They are particularly relevant in times of macroeconomic difficulties for their capacity to apply counter-cyclical and catalytic instruments.

There is no doubt that—on the whole—multilateral development banks have been, are, and will continue to be, important instruments in the future, insofar as they have the capacity to adapt themselves to continuously changing economic, social, and geopolitical circumstances.

In the past, the main objective of multilateral banks was to attract long term external resources and channel them into the funding of new investment—mainly in infrastructure. Over time, their role has evolved in response to the ever-changing realities that developing countries have faced. In the process, multilateral banks have broadened their scope to include a number of activities and sectors. Indeed, beyond the original model of the World Bank as a global development bank, different initiatives and institutional models have emerged over the years at the regional, sub-regional, and national levels in response to new geopolitical and socio-economic realities.

Other important reasons that more specifically justify the creation of regional development banks—and also explain their comparative advantage—include closer proximity to their clients and a broad knowledge of the idiosyncrasies of the region in which they operate. Nonetheless, their success has relied to a great extent on their capacity to articulate a vision of development, define a clear mission, and obtain the solid commitment of their member countries to that mission—as well as having the ability to mobilize external resources based on their institutional strength (both administrative and financial).
To continue reading, please login or subscribe