CIRSD Delegation Attends the 2014 China Development Forum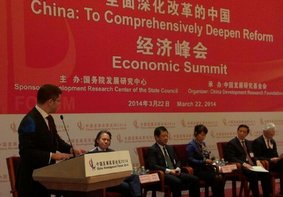 President of the Center for International Relations and Sustainable Development (CIRSD), Mr. Vuk Jeremić, together with CIRSD Senior Fellow, Mr. Damjan Krnjević Mišković, participated in the 2014 China Development Forum, which was held in Beijing's Diyaoutai State Guesthouse complex.
On the first day of the China Development Forum, Mr. Jeremić chaired a keynote panel entitled 'Building the New Silk Road,' during which he underscored the strategic vision of China to establish a new Silk Road to drive the flow of goods, services, natural resources, people, technology and ideas across the Eurasian landmass and adjoining seas.
In his introductory remarks, Jeremić addressed the issue of creating a comprehensive infrastructure network, with a focus on energy, transport, and communication. Jeremić also spoke of the importance of trade facilitation and assuring greater compatibility of regulatory environments, noting that building the New Silk Road would enhance peace and security across the region.
The China Development Forum is hosted by the Development Research Center of the State Council of the People's Republic of China, and is co-chaired by its President, Minister Li Wei, who is a member of the Board of CIRSD.
The China Development Forum is regarded as one of the world's most exclusive gatherings of global business leaders and opinion makers. More than 50 CEOs of world leading companies attended this year, including those of Volkswagen, Siemens, IBM, Nestlé, Deutsche Bank, Unilever, Dow Chemicals, DuPont, Ericsson, L'Oréal, Michelin, Danone, Boeing, BP, Total and JPMorgan Chase International. The heads of the IMF, OECD and the Asian Development Bank were also present.