Day Four of the Advanced Course on International Relations
The fourth day of the Advanced Course on International Relations covered some of the most important topics of contemporary international relations.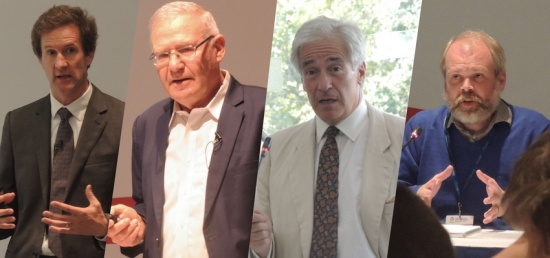 In the first session of the day, Executive Director of the UN Sustainable Development Solutions Network Guido Schmidt-Traub explained how climate change and economic conditions can initiate difficulties leading to armed conflict. He said that existing literature on geopolitics does not adequately address these factors, particularly when it comes to events on the international scene. Schmidt-Traub said that a large portion of ongoing conflicts has its roots in material factors; addressing them adequately could mean preventing conflict altogether. He emphasized the importance of reaching an international agreement on climate change in Paris.

Former head of the Israeli Defense Forces Military Intelligence Directorate and president of the University of Tel Aviv's Institute for National Security Studies Major General Amos Yadlin spoke in depth about the overall situation in the Middle East and possible scenarios for further developments in the region. General Yadlin elaborated on the complex ties between the Syrian crisis, Sunni-Shia conflicts, and the emergence of the Islamic State, explaining also the respective positions of Israel, Turkey, Iran, and Saudi Arabia relative to the Middle East. He used this occasion to reveal his predictions on the implementation of the recently negotiated Iran deal, which was followed by an intensive and thought-provoking debate.

The EU Special Representative for the Horn of Africa Ambassador Alexander Rondos delivered a succinct lecture on challenges in the African continent. He talked about security and economic difficulties in East Africa, the influence of the EU and China on the region, as well as the growing impact of the states of the Arabian Peninsula on the Horn of Africa. Rondos pointed to ways in which developed countries can advance their relations with Africa and foster the continent's development.

Richard Gowan, the Associate Director of NYU's Center for International Cooperation, spoke about the state of play in the United Nations, touching upon different subjects that lie at the center of the organization's agenda. Gowan analyzed relations between permanent members of the Security Council, as well as views of key global actors in this institution. He identified key weaknesses in the structure of the UN, and listed a number of states that are growing increasingly unhappy with status quo in the organization. He said that the future functionality of the UN will in large measure depend on the outcome of the 2016 U.S. presidential elections, as well as the outcome of the ongoing race for the post of the next Secretary-General.