CIRSD Webinar: "Building Forward Better After the Rain"
The Center for International Relations and Sustainable Development (CIRSD) is pleased to invite you to a high-powered exchange via Zoom in celebration of the launch of the latest issue of our flagship journal.
HORIZONS - Southeast Europe's unique publication available on JSTOR, world's most prestigious academic digital platform, is celebrating the launch of its nineteenth issue. Entitled "Building Forward Better: After the Rain", our latest volume features exclusive pieces by some of the leading thinkers of our times, such as Jacques Attali, Alan M. Dershowitz, Jeffrey D. Sachs, Nouriel Roubini, Thierry de Montbrial, Milo Lompar, and many others.
Amongst our authors is one of the world's most renowned historians and public intellectuals, Niall Ferguson, who will be the esteemed guest in our flagship Horizons Discussion marking the promotion of the journal's latest issue.
It will be held on Thursday, September 16th at 7 pm CET, via Zoom.
IF YOU WANT TO PARTICIPATE IN THIS DISCUSSION AND ASK PROFESSOR FERGUSON A QUESTION, APPLY BY SEPTEMBER 15 HERE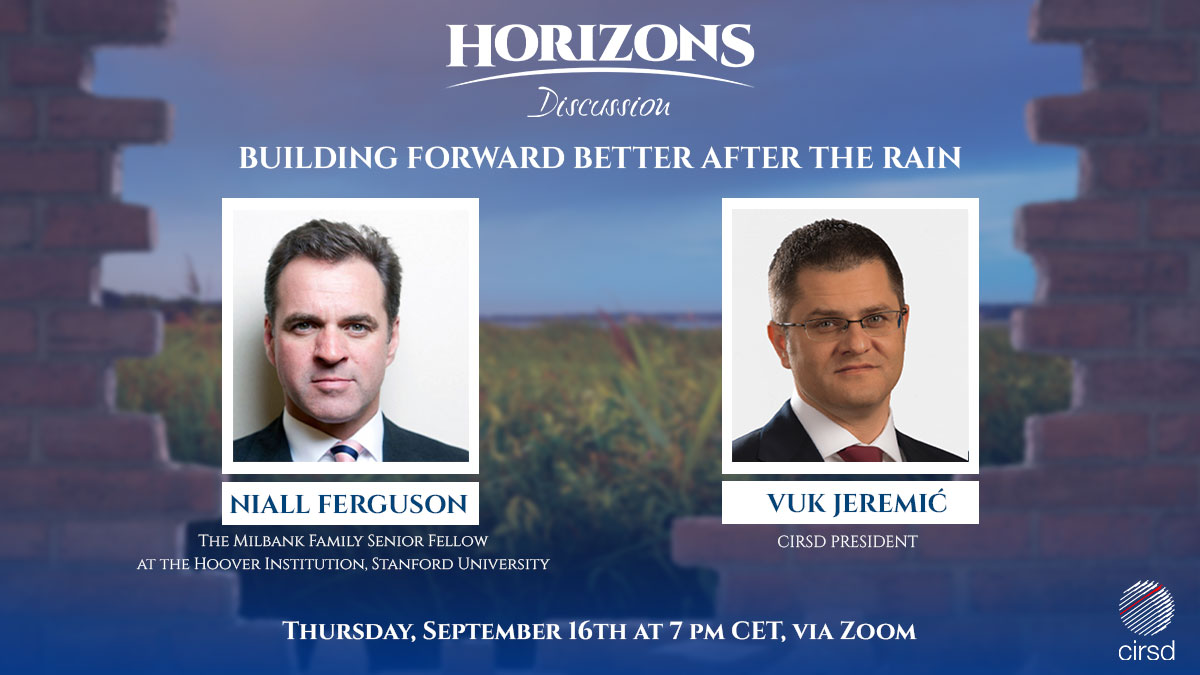 Ferguson's extraordinary grasp of history and incredibly sharp vision of the future render him one of the most mesmerizing speakers on international relations and global economy. He taught at Cambridge, Oxford, Harvard, Stanford and other most prestigious academic institutions. He is the author of 16 books, including his most recent, "Doom: The Politics of Catastrophe".
Professor Ferguson will talk about the consequences of the pandemic, challenges of leading superpowers, the role of new technologies in politics, economics, security and warfare, and many other issues.
The first 50 applicants from Serbia will be awarded a physical copy of the latest issue of HORIZONS.