Ian Bremmer and Vuk Jeremic: "The Great Quickening"
On May 24th 2020, the Center for International Relations and Sustainable Development (CIRSD) organized a discussion within the Corona Dialogues series, entitled "The Great Quickening", featuring Vuk Jeremic, CIRSD President, and Ian Bremmer, President and Founder of Eurasia Group, the leading global political risk research and consulting firm.
Ian Bremer is also the founder GZERO Media, a company dedicated to providing intelligent and engaging coverage of international affairs. A prolific writer, Ian is the author of ten books, including the New York Times bestseller "Us vs Them: The Failure of Globalism". He currently teaches at Columbia University's School of International and Public Affairs.
During the discussion the two interlocutors agreed that the pandemic has dramatically exacerbated the world trend of moving away from globalization, and moving towards fragmentation.
Jeremic stated that some things will never return to "normal", i.e. to the state they were in before the pandemic, and Bremer added that automation will be one of the main reasons many people will no longer be able to work the way they used to.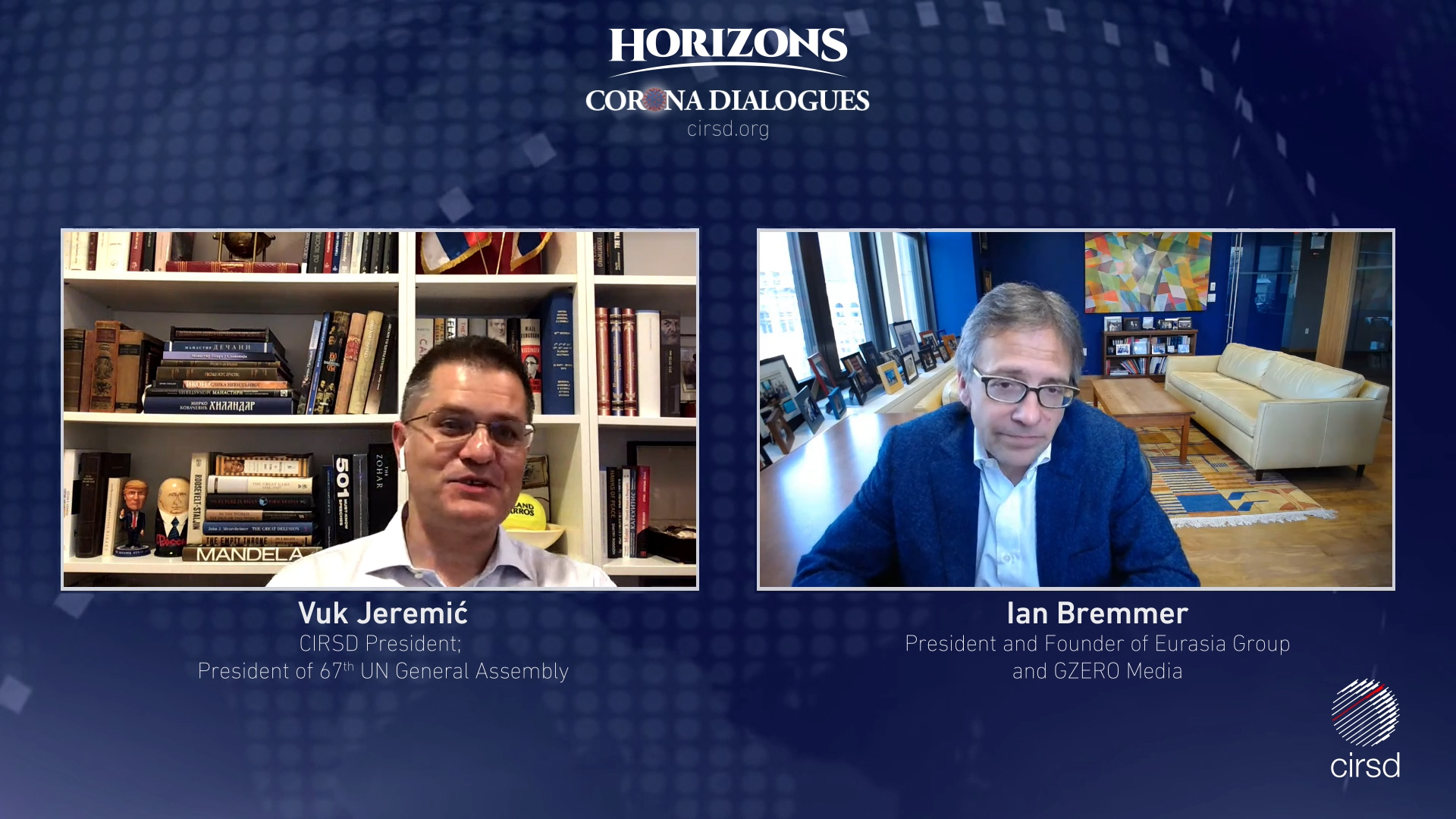 Bremer described the current geopolitical situation as a "G-zero world", explaining this as a world in which America no longer wants to be a global policeman, an architect of world trade and a cheerleader for global values, and no other state of constellation of states are willing or able to play that role. "It is not a G7, it is not a G20, but G-zero", he added.
"This crisis, therefore, is taking place in a G-zero world, in which states do not collaborate, but instead are actively fighting. America is fighting the Chinese, blaming them for the crisis, and Donald Trump plans to use this as the most important piece of his campaign for re-election," Bremer said.
"Trump wants to be re-elected and nothing is nearly as important to him as that goal. He is willing to confront the Chinese, but he has not yet decided how hard to go against them. He essentially does not want a strategic economic conflict, but wants to show that he is in charge, while the Chinese are more interested in the state of the Chinese economy," Bremer added.
Bremer stated that "China is not Iran", and that it will strike back if America attacks them economically, which does not necessarily imply a World War III will break out, since China is not a global military power.
"China, however, can lose much more than America, which has a better chance of winning the economic Cold war. For China, such a war would mean closing the markets for United States, Japan and rich European countries. In that case, the Chinese system could implode, because it would rely primarily on domestic consumption, and it will have to support the entire system of inefficient state-owned companies," Bremer explained.
Commenting on the possibility of a new Cold war between the United States and China, Jeremic said that a "either you are with us or against us" situation could arise, especially in terms of cooperation with the Chinese company Huawei, and asked what would happen if Serbia decides to stick with Huawei.
"Many poor countries will have to make difficult choices, and those decisions will cost more and more as time passes. It is not a question just for Serbia, it could be Italy, Greece, and other Balkan countries. The problem is that poor countries see Huawei as a cheap alternative, while there is no American alternative. Nonetheless, the Americans will try to make Huawei less attractive," Bremmer concluded.