Jeremić Gives Keynote Address at Hiroshima University Conference
On October 16th, 2016, CIRSD President Vuk Jeremić delivered the keynote address at the Hiroshima University's Institute for Peace Science annual flagship international symposium, entitled "New Frontier for the Global Governance and Multinationalism."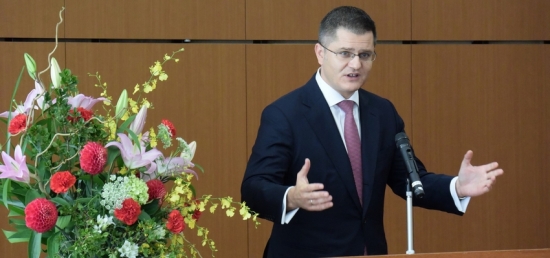 The conference was opened by Ambassador Tsuneo Nishida, Director of the Institute for Peace Science, who previously served as Japan's Deputy Foreign Minister and Permanent Representative to the United Nations. Other high-level speakers included Isao Kiso, Special Adviser to the Cabinet of Japan and a former ambassador to UNESCO; Kazotoshi Aikawa, Director-General of the Japanese Foreign Ministry's Department of Disarmament, Non-proliferation, and Science; and Takashi Inoguchi, Prefessor Emeritus at Tokyo University and one of Japan's most respected international relations authorities.

Held in the year marking the 70th anniversary of the nuclear bombing of Hiroshima and Nagasaki, the symposium explored the potential of various forms of multinational cooperative frameworks, including regional and transnational cooperative arrangements; issue-specific coalition arrangements; ad-hoc multinational cooperative arrangements; and ongoing efforts to reform existing forms of global governance.

In his keynote address, Jeremic provided an overview of recent developments in theatres around the world. He also drew attention to the UN's changing role in the 21st century; the increasing challenge posed by transnational non-state actors such as ISIS; the growing significance of e-commerce and cybercrime to the world economy; and the importance of working together to address the common threat posed by climate change.

Jeremic devoted a portion of his remarks to the recent adoption of the UN's 2030 Agenda in the General Assembly, underscoring that it represented a notable milestone in the shared endeavor to achieve sustainable development. "The convening power of the United Nations is uniquely important, as we saw last month in New York. The world organization can still deliver results, but I believe that remaining fit for purpose in the time ahead will require further reforms and greater coordination between a revitalized Secretariat and the membership as a whole," Jeremic said.