Jeremić in Historic London Candidates' Debate
For the first time in the UN's 70-year history, candidates for the position of UN Secretary-General have taken part in a major public hustings debate.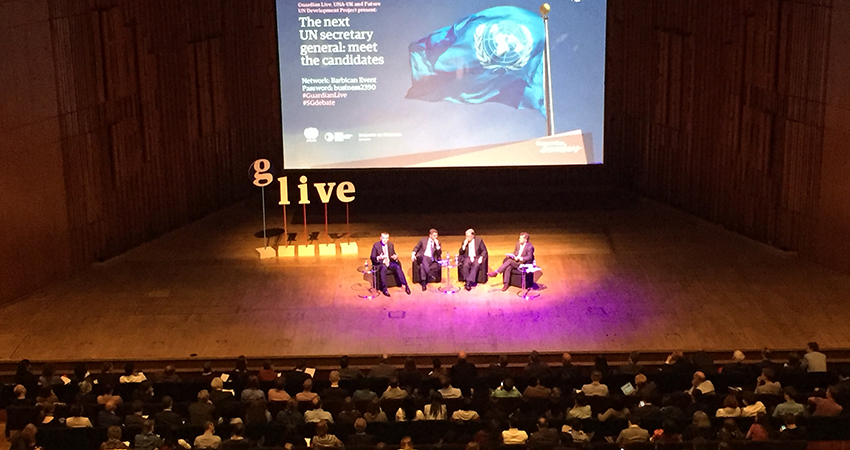 The event took place on 3 June in front of a packed audience at London's Barbican Centre. In addition to Vuk Jeremić, participating in the event were Antonio Guterres and Igor Lukšić.

The debate was organized by UNA-UK, Guardian newspaper, Future UN Development System Project of the CUNY Graduate Center, and Royal Danish Embassy. Questions were posed by a distinguished panel of experts, including two former British permanent representatives to the UN—the Lord Hannay of Chiswick and Sir Jeremy Greenstock—as well as members of the general public.

In his opening remarks, Mr. Jeremić asked the audience to indicate by a show of hands whether they felt truly inspired by the results that the UN is delivering today. Seeing very few, he noted this was a view widely shared around the world. "And that has to change, and that is why I am running for Secretary-General," he concluded.

Topics covered in the candidates' debate included sustainable development, climate change, conflict prevention and peace operations, human rights and humanitarian relief, and UN revitalization.

In answering the final question of the evening about what gives him hope for the future, Mr. Jeremić said the world needs a "reformed, rejuvenated, accessible, and transparent United Nations. But that's not the sort of UN that we have today," he added.

"If you disagree—if you believe that we're moving in the right direction, and at the right speed; if you believe that the UN is just fine, and that we need the same old things and the same old faces—then I'm clearly not your candidate. But if you think that we must give our common home a substantial facelift, and stop with the business-as-usual, here are the 53 things that I propose we do together," he concluded, referring to the Platform he released publically during the hearings that took place in the UN General Assembly in last April.